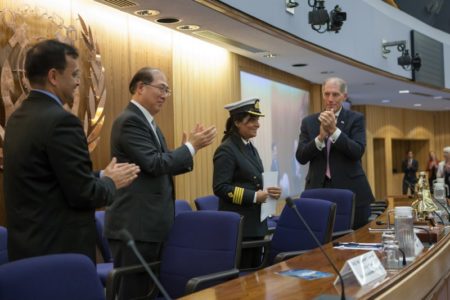 Captain Radhika Menon has become the first woman to receive the prestigious IMO Award for Exceptional Bravery at Sea for her role in the dramatic heavy seas rescue of seven fishermen from a sinking fishing boat in the Bay of Bengal.
Captain Menon, Master of the oil products tanker Sampurna Swarajya, was presented the award on Monday during a ceremony at the 97th session of the Maritime Safety Committee held at IMO headquarters in London.
Captain Menon is the first female captain in the Indian Merchant Navy and the first female to receive the IMO Award for Exceptional Bravery at Sea.
Captain Menons says she was "just doing her job" when she led the rescue operation to save the crew of the Durgamma in June 2015.
According to the IMO, Captain Menon ordered the rescue operation after spotting the Durgamma adrift in severe weather off Gopalpur, India. Despite wave heights of more than 25 feet, torrential rain, and winds of 60 knots, Captain Meno and her crew used the ship's pilot ladder to get the seven men to safety on board the deck of the tanker.
"It is every seafarer's and Master's solemn duty and obligation to save souls in distress at sea. I just did what a seafarer should do for a fellow soul in distress at sea. Yes, it was an instant decision, but not without assessing the risks involved. I just did my duty," said Captain Radhika Menon, Master of the oil products tanker Sampurna Swarajya.
Captain Menon began her seafaring career as a radio officer and rose through the ranks of deck officer before being appointed as Master of the Sampurna Swarajya.
Captain Menon was nominated for the Bravery Award by the Government of India. This year, the IMO received 23 nominations from nine Member States. Additional Certificates of Commendation and Letters of Commendation were also distributed to those individuals and crews.
The 999-built Sampurna Swarajya is an Indian-flagged oil products tanker of 32,950 dwt.
Copyright Ships & Ports Ltd. Permission to use quotations from this article is granted subject to appropriate credit given to www.shipsandports.com.ng as the source.