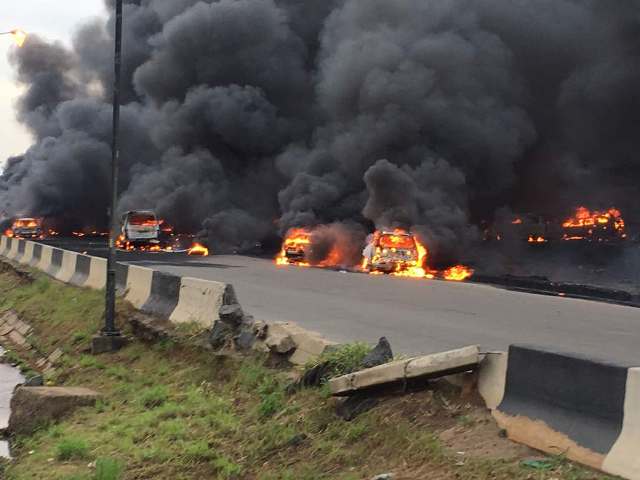 The Lagos state government says it is perfecting plans to prosecute the owner and driver of the ill-fated fuel tanker which exploded on Otedola Bridge inward Ojodu Berger along Lagos-Ibadan expressway last Thursday.
Lagos State Commissioner of Police, Imohimi Edgal, disclosed this in a statement on Monday.
He said the state's Attorney-General and Commissioner for Justice, Adeniji Kazeem, had written to him on the advice about relevant provisions of the law that could guide the ongoing investigation which would lead to possible prosecution.
Edgal said investigations into the incident were ongoing, saying that government would not allow vehicles that pose serious danger to residents on the road.
The police chief, who briefed journalists alongside heads of other security agencies in the state, specifically commiserated with those who lost their loved ones to the tragic incident, while also commending emergency responders.
"As regards investigation into the matter, it is in top gear. I have just received a letter from the office of the Attorney general and commissioner for justice which stated very clearly charges which we are going to prefer against the driver and the owner of that tanker," he said.
"Henceforth, we are using this opportunity to call on all tanker drivers, all lorry drivers, all owners of such articulated vehicles to please submit those vehicles for Vehicle Inspection Office (VIO) test; they must go through the entire hub and get the Ministry of Transportation (MOT) Certificate of Road Worthiness. We will not allow such vehicles which obviously pose serious danger to other road users on our roads."
He said government had already directed security agencies to intensify enforcement of relevant laws, especially the state traffic law, with the view to ensuring that the roads and highways in the state were safe for commuters to ply without any danger.
Kazeem gave a post-accident update on the explosion, saying the victims families had started submitting relevant samples to aid DNA testing to identify the dead.
The accident claimed at least nine lives, and left four injured while 54 vehicles were reportedly burnt.
During such a test, DNA samples of close blood relatives are collected and conducted based on similar characteristic traits shared.
Samples including tooth, blood or hair strand, could be collected during postmortem examination of dead bodies.
"I can confirm that today, families who lost their loved ones to the accident have started reporting at the Lagos State DNA Forensic Centre for submission of reference samples that would be used to identify victims," he said.