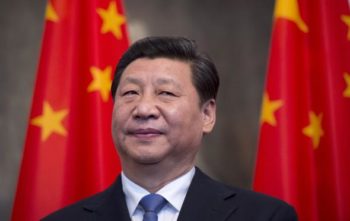 China on Thursday warned that the United States is "opening fire" on the world with its threatened tariffs.
It said no one wants a trade war but will respond the instant U.S. measures go into effect as Beijing ramped up the rhetoric in the heated dispute.
The Trump administration's tariffs on $34 billion of Chinese imports are due to go into effect at 0401 GMT on Friday, which is just after midday in Beijing.
U.S. President, Donald Trump, has threatened to escalate the trade conflict with tariffs on as much as $450 billion worth of Chinese goods if China retaliates, with the row roiling financial markets including stocks, currencies and the global trade of commodities from soybeans to coal.
China has said it will not "fire the first shot", but its customs agency made clear on Thursday that Chinese tariffs on U.S. goods would take effect immediately after U.S. duties on Chinese goods kick in.
Speaking at a weekly news conference, Commerce Ministry Spokesman, Gao Feng, warned the proposed U.S. tariffs would hit international supply chains, including foreign companies in the world's second-largest economy.
"If the U.S. implements tariffs, they will actually be adding tariffs on companies from all countries, including Chinese and U.S. companies.
"U.S. measures are essentially attacking global supply and value chains. To put it simply, the U.S. is opening fire on the entire world, including itself.
"China will not bow down in the face of threats and blackmail and will not falter from its determination to defend free trade and the multilateral system," Gao said.
Asked whether U.S. companies would be targeted with "qualitative measures" in China in a trade war, Gao said the government would protect the legal rights of all foreign companies in the country.
"We will continue to assess the potential impact of the U.S.-initiated trade war on companies and will help companies mitigate possible shocks."
Gao said China's foreign trade was expected to continue on a stable path in the second half of the year, though investors fear a full-blown Sino-U.S. trade war would deal a body blow to Chinese exports and its economy.
Foreign companies accounted for $20 billion, or 59 percent, of the $34 billion of exports from China that will be subject to new U.S. tariffs, with U.S. firms accounting for a significant part of that 59 percent, Gao said.
Speaking at a separate briefing, Chinese Foreign Ministry spokesman, Lu Kang, sidestepped a question on whether there had been efforts to initiate new talks with the United States.
"We, of course, don't want to fight a trade war, but if any country's legitimate interests are harmed, then of course that country has the right to firmly protect their own interests," Lu said.
China's plans to impose tariffs on hundreds of U.S. goods targets some top U.S. exports, including soybeans, sorghum and cotton, threatening U.S farmers in states that backed Trump, such as Texas and Iowa.
Chinese buying of soybeans has ground almost to a halt ahead of the duties, while Chinese farmers worry the penalties and tighter supplies will drive up costs, squeeze margins and ultimately inflate retail prices of pork, the country's top-selling meat.
In the latest sign that the risk of penalties is hitting trade, a vessel carrying U.S. coal and heading for China was diverted on Wednesday to Singapore.
Agency Report