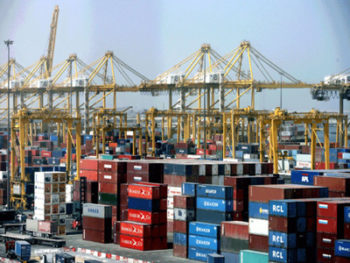 Members of the Seaport Terminal Operators of Nigeria (STOAN) have said that they will continue to support the export and economic diversification drive of the Federal Government.
The terminal operators said some of the steps taken by the government so far indicate that President Muhammadu Buhari is determined to reposition the economy of Nigeria and so should be given the necessary support.
STOAN Spokesman, Bolaji Akinola said the country at the moment needs strategic interventions and focussed leadership to transform the economy that has since been dependent on oil.
"There is no better way to transform the economy now than through the economic diversification drive embarked upon by the Federal Government and STOAN is poised to support the government as it embarks on this onerous but fruitful task of growing the economy.
"The government recently reiterated the determination of the administration to diversify the economy through increased local production of goods and services. This is a welcome development because with a diversified economy, Nigeria would not have to depend on a single commodity to survive as a nation," he said.
Akinola said that this effort will not only reflate the economy but will also create the right environment for foreign direct investment because of the stability that will be engendered in the system.
"STOAN aligns with the Federal Government vision of building the economic foundation on made-in-Nigeria goods and services.
"The diversification efforts will help Nigeria move from import dependence to self-sufficiency in local production and become an export-led economy in goods and services.
"Also this effort by the government will continue to improve the environment and make it conducive for businesses to thrive."
He said that many of the government's programmes had been structured to stimulate domestic production, like how to improve the quality of made-in-Nigeria goods to international standards so they can be exported.
"There is need to support SMEs to be able to compete and create the platform to allow recommendations that will help reinvigorate local industries so as to curtail the growing demand for foreign exchange for imported end-user goods," he said.
The STOAN spokesman said government's desire to partner the private sector so as to leverage and catalyse resources and development capital is strategic.
He said terminal operators identify with plans by the government to create a business-friendly environment; coherence between monetary, fiscal and structural reform policies; and provision of hard and soft infrastructure for growth.
"The global perception had been that Nigeria is a tough environment to do business; therefore this is a good opportunity to change this narrative as positive perception will attract investors, capital, technology and best practices," he said.
Copyright Ships & Ports Ltd. Permission to use quotations from this article is granted subject to appropriate credit given to www.shipsandports.com.ng as the source.