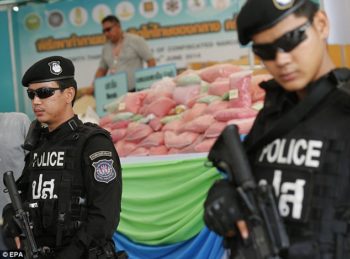 Thai narcotics police said on Tuesday it has seized 890 million baht ($29 million ) worth of drugs and arrested 11 smugglers in a series of raids recently.
According to a police statement, in eight separate cases across Thailand, up to 1.7 million methamphetamine pills, more than 700 kilogrammes of crystal methamphetamine and nearly 1.4 tons of marijuana were seized.
Among the 11 people arrested, two are Malaysians and one is a national of Tanzania, while the rest of the suspects are Thai nationals.
Drug smugglers can face the death penalty in Thailand, but the Thai judicial system typically hands out a more lenient sentence if the suspects plead guilty.
The South-East Asian nation last carried out an execution in a drug-related case in 2009.
Methamphetamine pills are popular drugs in Thailand and across South-East Asia, with Thai police saying the pills seized in 2017 more than doubled the figure in 2016.
Report says most methamphetamine smuggled to Thailand comes from Myanmar through the notorious "Golden Triangle" shared border area with Laos.
Agency Report