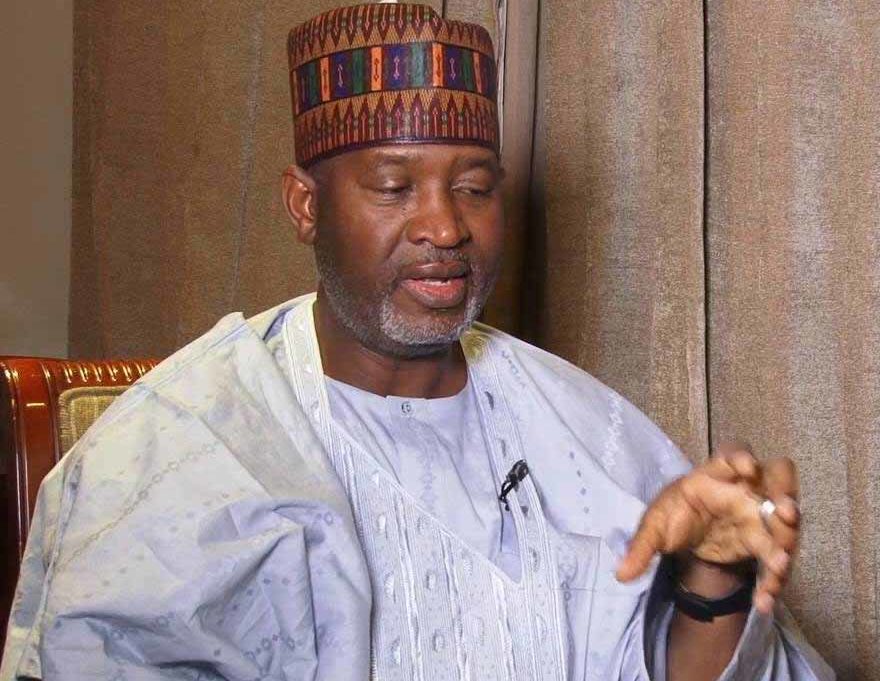 By Ace Omozuwa
For valid reasons, the unveiling of the new national carrier by the Minister of State for Aviation, Senator Hadi Sirika, at a press conference during the Farnborough Air Show in London has caused a firestorm of controversy here in Nigeria. Nigerians who are knowledgeable about the historical crises of our aviation industry, and particularly, past national carriers are pessimistic about this new development, but others are ecstatic, because, it could re-inflate our national ego, and provide jobs.
During the unveiling on Wednesday, Senator Hadi Sirika, noted; "I am very pleased to tell you that we are finally on track to launching a new national flag carrier for our country, Nigeria Air. We are all fully committed to fulfilling the campaign promise made by our President, Muhammadu Buhari, in 2015. We are aiming to launch Nigeria Air by the end of this year."
President Muhammadu Buhari, has demonstrated utmost commitment to the realization of this aspiration. Following the recommendations of the political transition panel report, which was chaired by Ahmed Joda, government constituted a 13-member committee to fashion out effective strategies for the re-establishment of a competitive national carrier. In its determined pursuit to actualize this goal, the federal government some months ago entered an agreement with consortiums of six companies and paid $4.99 million for advisory services.
One of the cardinal motivations fueling this new national carrier is nationalistic prestige. Some influential Nigerians who have been mounting pressure on the President think that as Nigeria Air flies around the globe the glory of Nigeria will be rekindled and shine forth. The other is the need to create jobs. Available data shows that close to 400 trained Nigerian pilots are in the labor market searching for job.   As commendable as these goals are they do not automatically justify the need for a national carrier. In fact, if we pay close attention to historical antecedents, the appalling state of aviation infrastructure, the problems of financing aviation development in Nigeria, and the nefarious effects of corruption in the industry, we would admonish government to walk on eggshells.
We cannot speak of burnishing our national glory when we have not done much to comply with the stipulations that regulate global aviation business.  Last year, a survey conducted by Sleep in Airport website showed that the, Murtala Muhammed International Airport, and the Port Harcourt International Airport, are in the disreputable group of the 20 most dysfunctional airports in the world.   The evaluative criteria used were very basic. They included: basic cleanliness, comfort services, customer services, navigation, and sleep-ability.  If truly we want to re-inflate our national pride, we should make sure our airports are no longer operated as glorified motor parks.  We should make sure that never again will any of our airports appear in the category of those of war-torn countries.
It is evident that President Buhari is very aware of the truism that good students of history are pioneers of future development. Hence, he aptly stated, "Nigerians need to know how we lost the one (Nigerian Airways Limited) we had before." At the moment, one person that can ably furnish the President and all Nigerians with relevant information about the root causes of the collapse of Nigeria Airways Limited is a former Managing Director of Discovery Airlines, Mohammed Abdulsalam. He chaired the 13-member committee, which was mandated in September 2015 to review why Nigeria Airways failed and to develop a blueprint for the setting up of a new national carrier.  But while we wait for Mohammed Abdulsalam expert findings, we may be guided by the statements of two men who are in good position to know, namely former President Olusegun Obasanjo and Richard Branson.
According to Obasanjo, "When I was leaving office in 1979, there were 32 aircraft in the Nigeria Airways fleet, but when I came back in 1999, I only met one. I looked back to history and discovered that the board of directors of the airline was corrupt. The board will form a company in Jersey Island, and will give the repairs of the aircraft to that company. So, that was how they embezzled the airline's funds and ran it down."
According to the chairman of Virgin Atlantic, Richard Branson, "We fought daily battle against government agents who wanted to daily make fortune from us, politicians who saw the government 49% as a meal to seek for all kinds of favour…watchdogs (regulatory body) that didn't know what to do and persistently asking for bribes at any point…Nigeria people are generally nice but the politicians are very insane…that may be irony because the people make up the politicians. But those politicians are selfish. We did make N3 billion for the federal government of Nigeria during the joint venture, realising that the government didn't bring nothing to the table/partnership except dubious debts by the previous carrier, Nigeria Airways. The joint venture should have been the biggest."
From the statements of Obasanjo and Branson, it is clear that one of the seemingly insurmountable challenges bedeviling the aviation sector in Nigeria is corruption. The experience of Branson reaffirms that fact that corruption creates a toxic business climate that impairs growth. It can suffocate to death tyros, and even industry giants without exit plans. Businesses cannot flourish when regulatory authorities do not adhere to their professional ethics. Corruption, which has made multiple taxations a norm in the aviation sector, has consequently made our business landscape arduous to navigate and thrive in.  This perennial unfriendly business environment has led to the demise of many airlines, some of which are EAS, Sosoliso, Savannah, Triax, Oriental, Concord, Dasab, Albarka, Fresh, Okada, Harka, Harco, Belview and ADC. Therefore, to truly open an era of blazing glory for Nigeria, government should make the aviation sector clement.
Also, due to corruption and policy inconsistencies, the aviation sector in Nigeria is floundering in the morass of credibility deficit. In fact, given the high standing of Richard Branson in the global aviation sector and his openly expressed low opinion of regulators and politicians in Nigeria, it will be an uphill task for the federal government to woo principle-minded foreign investors. It is a well-known fact that without robust capital, the sustainability of any venture like the new national carrier is doubtful.
The sad experience of Richard Branson while he operated Virgin Air in Nigeria sends a negative message to foreign investors: it takes more than managerial acumen, technical efficiency and huge capital outlay to flourish in Nigeria.
This message could make prospective investors weary. It will be unwise for us to seek to bury it by opening a new chapter with plump and pageantry. If we seek to attract the right investors we must put out a convincing message. We must demonstrate our awareness of the fact that policy stability is the bedrock of business development and long-term profitability. Similarly, we must allay the fears of potential investors that corruption will not devour the dividends of their investment if they come to do business in Nigeria.
For Nigeria Air to thrive, it must be poised right from its start to offer Nigerians better travelling experience. It can do this by ensuring it does not replicate the mistakes of others, particularly as it relates to spur-of-the-moment flight cancellation. Also, it should ensure that refurbished moribund flying vehicles are not in its fleet. Nigerians can no longer endure the traumatic experience of the door of an aircraft pulling off.
For Nigeria Air to restore our national glory, government, politicians and their cronies should not see it as part of the "national cake". The reason why Ethiopian Airlines, Air Maroc, Kenya Airways, and others are thriving today and have become icons of Africa's aviation glory is because they are free from the interferences of their governmental authorities. If it is difficult for us to learn from our historical past, the not-so-inspiring legacies of South African Airline should teach us how not to operate a national carrier.
Copyright Ships & Ports Ltd. Permission to use quotations from this article is granted subject to appropriate credit given to www.shipsandports.com.ng as the source.