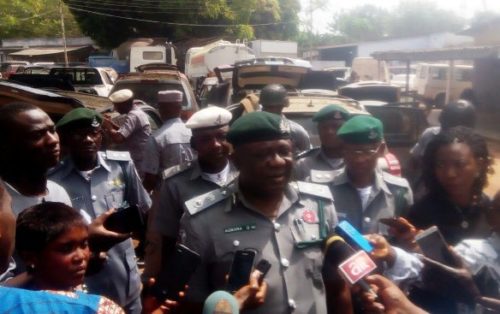 Controller, Ogun area command of the Nigeria Customs Service, Comptroller Micheal Agbara, has disclosed that there are over 100 illegal routes at Idiroko, the border between Nigeria and Benin Republic.
Comptroller Agbara made the disclosure on Tuesday at Idiroko while addressing journalists on the seizure of contraband items by the command in November.
He said the many unapproved routes at Idiroko have remained the bane of anti-smuggling activities in Ogun State.
He said, "Ogun State is a porous state. I pray there will be a day I will take some of you to the creeks. A lot of unapproved routes abound; over 100 in the state down from Ado-Odo where they use water, to Ipokia down to Ago, Ijofin up to Imeko among others. We have a lot of unapproved routes that can be plied with cars and motorcycles. 
"So I am not surprised that you see smuggled rice at Sango markets. Sango is at the centre, it does not mean that all the rice are from Ogun State, they can be from other states but as you know, nobody has ever stopped smuggling, we only suppress it to the barest minimum and I think we are doing just that."
He said despite resistance and attacks on officers by smugglers, the command would not be deterred in carrying out its statutory responsibilities and in implementating of government policy on importation of rice and vehicles through the land borders.
According to him, "Just five days ago, some officers were knocked down at Oke-Odan. They are still in hospital and that is what we see everyday. It is a risky job. The officers came from headquarters on patrol to compliment our effort but they were hit by a hit and run vehicle. So it is a daily occurrence here but officers are motivated to do their jobs and they are not abandoned by their plight when such incidents occur. So we will continue to do our job."
He said the command recently got approval of four new patrol vehicles from the Customs management to complement existing ones for effective manning of the borders against economic saboteurs.
In the area of revenue generation, Agbara said the command recorded its highest monthly revenue in November with a collection of N1.12 billion.
In the area of anti-smuggling within the period under review, he said, "The command made seizures of 6,015 bags of foreign rice, 67 units of vehicles, 119 kegs of vegetable oil, 171 pairs of used foot wears, 22 bales of second hand clothing, 30 cartons of frozen poultry products with a duty paid value of N395 million." 
He said five suspects have so far been arrested in connection with the seizures.