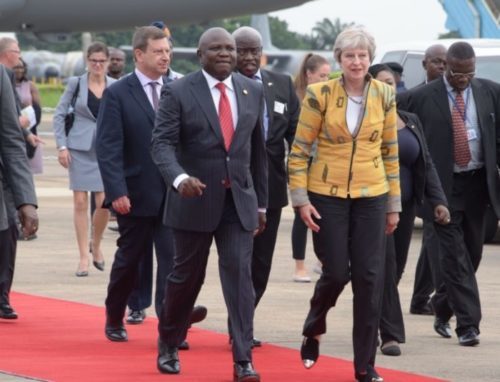 British Prime Minister, Theresa May on Wednesday said Lagos State can access the availability of £750 million (N353,467,010,250) export credit finance to propel more development for the state.
May, who spoke when Governor Akinwumi Ambode received her in Lagos, said she was happy to be in state even as she underscored its commercial importance to Nigeria.
May said the important role that a stable government in Lagos plays in giving extra confidence of investors in the state.
May disclosed the availability of export credit finance to the tune of £750 million as well as a considerable development finance, which Lagos State could look towards.
She spoke about the role that British could play in the development of the technology industry in Lagos given the particular capability of the UK in that area.
In that regard, the May disclosed that she brought as part of her delegation, an expert in Fintech to explore the opportunity in this area that Lagos could benefit from.
The British Prime Minister also noted the special strength of London City as a financial hub that could be of considerable importance to Lagos State, just as she emphasized hope for sustainability and growth in Britain-Lagos relationship.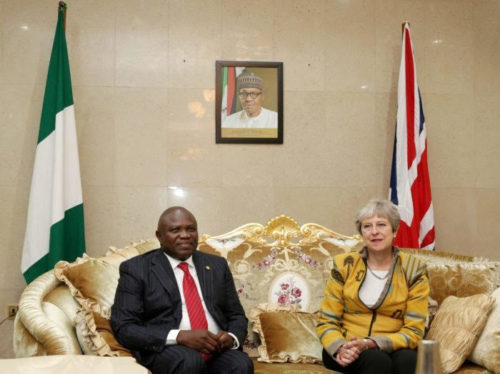 She expressed the desire of the British government to assist Lagos in the development of its creative industry and alluded to the fact that the jacket she was wearing when she met with the Governor was actually made in Nigeria.
The state governor, Akinwunmi Ambode said the State remained a choice destination for investors from the United Kingdom.
The governor said he was delighted to welcome the British Prime Minister to Lagos, noting that the relationship between Britain and Nigeria dated back to the 19th century.
He said that much of Nigeria's education, cultural and political systems was influenced by Britain and that there are more Nigerians living in the UK than elsewhere in the world outside Nigeria.
Ambode said Lagos remained a place of choice for British investors especially given that stability in the government, the size of Lagos economy and population, the particular focus of his administration on the rule of law and justice sector reform.
These, Ambode said, have not only enhanced the ease of doing business in Lagos but also ensured greater protection of the people and investment in the state.
He also said that it would be of particular importance to Lagos State if British investors could explore the various opportunities that exist in the state in the areas of energy, technology, export finance, infrastructure and the creative industry.
Copyright Ships & Ports Ltd. Permission to use quotations from this article is granted subject to appropriate credit given to www.shipsandports.com.ng as the source.