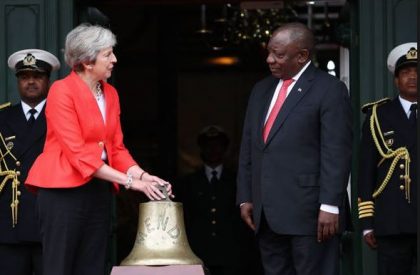 President Cyril Ramaphosa of South africa on Tuesday thanked British Prime Minister Theresa May for handing over the bell of a World War I ship on which over 600 black South African troops perished when it sunk in 1917.
"We were extremely honoured to have been presented with the ship's bell of the SS Mendi," Ramaphosa said at the close of May's visit to the former British colony.
The gesture "honours the memory and the sacrifices of all those who perished so far away from their homes and loved ones," he added.
May's trade trip to South Africa – which will be followed by stops in Kenya and Nigeria – comes as Britain seeks to shore up trade partners ahead of their exit next year from the European Union.
"Both our countries have identified key sectors for investment to boost economic growth and development.
"We also confirmed our wish that the negotiations on the UK's exit from the European Union are concluded in a manner that restores stability to economic and financial markets," Ramaphosa said after meeting with May.
Earlier, May kicked off her first Africa trip in Cape Town, saying she saw huge potential for investment in the continent.
May's trip comes as she seeks to shore up trade partners ahead of Britain's exit next year from the European Union, with British businesses sounding the alarm about the potential negative impact.
She announced plans for about five billion dollars in investment for Africa and said job creation should be at the "very heart" of the British-African partnership.
Britain was South Africa's sixth largest trading partner in 2017.
She also spoke about the need to continue British aid to Africa.
"I want to be clear, foreign aid works," and offered assurances on Britain's engagement with the wide world even as it prepares to break away from Europe.
"We will remain a global champion for aid spending, humanitarian relief and international development," she said in an address.
On the plane to South Africa, May tried to calm fears of what would happen if Britain leaves the European Union without a negotiated Brexit deal, saying it "wouldn't be the end of the world."
Britain published 24 documents last week on preparations for a no-deal Brexit, which analysts warn could have dire consequences for the economy.
At the press conference, May also voiced support for South Africa's controversial land reform plans.
Her U.S. counterpart Donald Trump last week angered the South African government after tweeting concerns about their intention to expropriate land without compensation in order to address historical inequality.
"The UK has for some time now supported land reform – land reform that is legal, transparent," she said, adding that she welcomed assurances already given by South African leader Cyril Ramaphosa that there would be "no smash and grab."
May's comments will come as a relief to many in the country who were worried the land policy could scare off investment.
The Prime Minister, however, stressed the need for strong legal frameworks and anticorruption mechanisms in African countries in order for investors to be secure.
"Corruption and dirty money," she said, "both have the potential to push development off course."
More widely, the Prime Minister promised that Britain would support a permanent position for Africa on the United Nations Security Council.
Britain will also be opening more embassies on the continent, including in Chad and Niger, May said, countries that have a closer connection to France because of their colonial history, but which are threatened by terror groups.
"We will invest more in countries like Mali, Chad and Niger that are waging a battle against terrorism in the Sahel," she said referring to the fight against islamist groups like Boko Haram.
May will now meet with President Cyril Ramaphosa and, weather permitting, go to Robben Island – where South Africa's first democratic leader, Nelson Mandela was imprisoned for years by the apartheid regime.
She will then head to Nigeria where she'll meet President Muhammadu Buhari on Wednesday as well as speak to victims of modern slavery.
On the third leg of the trip, in Kenya, she will meet President Uhuru Kenyatta and see British soldiers training troops who will ultimately be sent to fight Al-Shabaab in Somalia.   
Copyright Ships & Ports Ltd. Permission to use quotations from this article is granted subject to appropriate credit given to www.shipsandports.com.ng as the source.