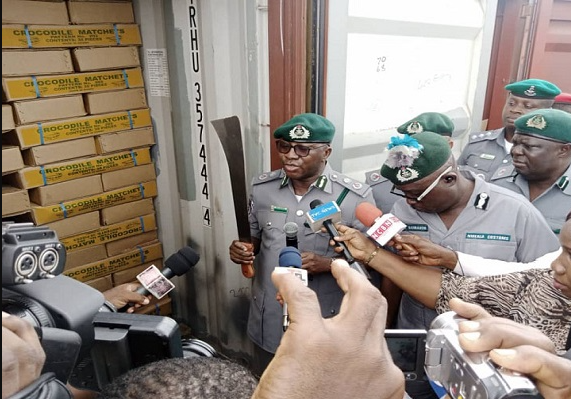 The Nigeria Customs Service (NCS) Tin Can Island Port Command said it generated N135.4 billion in the first quarter of the year, even as it announced the seizure of 145kg of Colorado (Indian hemp) and eight containers of machetes illegally imported into the country. 
Controller of the command, Comptroller Adekunle Oloyede, who disclosed this during a press conference in Lagos on Thursday, said the 2022 Q1 revenue was 20.18% higher than the N112.6 billion generated in the corresponding period of 2021. 
"Gentlemen of the press, as part of our effort to wage war against the importation of firearms, the command through its intelligence unit seized eight containers full of cutlasses. And following the procedure, until the importers produce an end-user certificate from the Office of the National Security Adviser, we will not release them. Cutlasses are instruments of mass destruction," Oloyede said. 
According to him, the importation of the products contravenes sections 46, 47, and 161 of the Customs & Excise Management Act (CEMA) Cap 45 LFN 2004. 
He also disclosed that 71,014.4 metric tons of export goods with Free on Board (FOB) value of N56,205 billion passed through the command in the first quarter of the year. 
"Comparatively, between January to March 2021 and 2022, the tonnage of goods exported through the command increased from 44,502.9 metric tonnes to 71,014 representing an increase of 62.67 percent. The FOB Value in naira of the above-mentioned tonnage also increased from N31.371 billion to N56.205 billion representing an increase of 55.82% within the period under review," he said.