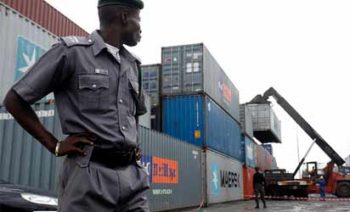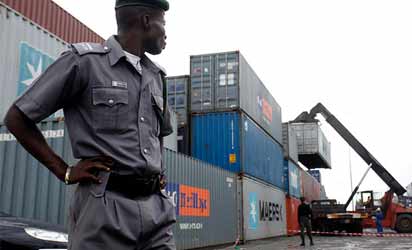 The Tin-Can Island Command of the Nigeria Customs Service (NCS), says it had handed over a 40-foot container containing impounded and falsely declared pharmaceutical goods to the National Drug Law Enforcement Agency (NDLEA).
The Customs Area Controller, Comptroller Yusuf Bashar, listed the items to include: Spectradol (Tramadol) capsules, Spectra-Doxycycline capsules and Jinart tablets that were falsely declared as vehicles.
Bashar in a statement on Monday,  said that the Command handed over the container to the NDLEA, Tin-Can Island Port commander, Nse Jack.
He listed other seized drugs to include; Clarinthromycin tablets and Jincold-Extra Strength capsules.
Bashar said Customs would continue to build on the existing inter-agency cooperation with all concerned regulatory agencies, in its efforts at ensuring that illicit goods were intercepted at ports.
The Customs boss lamented the increasing negative effects that fake drugs were having on the teeming Nigerian youths.
He linked the frequency of drugs seizures in recent times to the forthcoming election year, said that consumption of such drugs by the youths usually gave them false illusion to perpetuate deplorable acts.
Bashar said the command recently seized arms, cars, drugs and other goods.
He said that an importer, who falsely declared some pharmaceutical products as imported vehicles and another container as containing computer accessories, could never be described as a patriotic citizen.
"It is not just about money but the health and well-being of the people.
"Every Nigerian should show care about the lives of Nigerians and it is not about revenue nor trade facilitation but about the good of Nigeria and Nigerians, so this must stop.'' the Comptroller said.
Bashar gave the name of the importer as Jin Spectra Pharmaceutical Ltd., based in Kano.
He also said the name of the clearing agency was Febeaco Nigeria Ltd., with office along Apapa-Oshodi Expressway, Apapa, Lagos.
The Comptroller expressed confidence in the officials of the NDLEA to complete its investigation and prosecute offenders.
He, however, said that the NCS would not allow unpatriotic and inconsiderate importers and agents to use the Tin-Can Island Port as a dumping ground to perpetrate their illegal operations.
Bashar recalled that some weeks ago, two containers of falsely- declared pharmaceutical products were also handed over to National Agency for Food and Drug Administration and Control (NAFDAC).
According to him, there are over 100 million youths in Nigeria. If they are allowed unregulated access to these drugs that will portend great danger for the nation.
The NDLEA, Tin-Can Island Port commander, Nse Jack. who received the consignments on behalf of the Chairman of NDLEA,  commended the Comptroller for his consistent commitment to the concept of inter-agency collaboration and synergy over time.
He said that the NDLEA would conduct further due diligence test to unravel details of the importer for eventual prosecution of suspects.