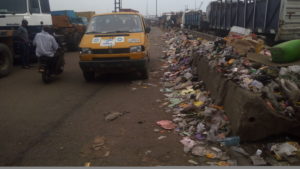 By Bolaji Akinola
I visited the Tin Can Island Port Complex on Wednesday after a long while. I must say that the facilities around the port have continued to disintegrate in a way that should get the authorities worried. The entire stretch of road leading into the port is a complete mess. It is dirty, stinking and looks like anything but a port access road. The front of both first and second gates of Nigeria's second largest seaport is not any better than a slum with heaps of refuse occupying prominent and sizable portions.
The buying and selling are no longer roadside affairs; they now happen right in the middle of the road. The entire stretch of landscape is nauseatingly dirty with all sorts of hustlers and characters – vulcanizers, emergency mechanics, hawkers, traders, drug pushers, prostitutes – at night – and all sorts of characters competing for space and attention.
Chaos and disorder are the new normal at Tin Can. Traffic rules have been suspended and sanity has become alien to an environment that could nearly be described as pristine less than two decades ago. The condition of the road is story for another day. I think there are more potholes and craters on that road than there's tar. A ditch I saw around second gate is large enough to swallow a trailer.
Coming from the Ijora end, I saw some vehicles driving against traffic under the Liverpool Bridge to connect Tin Can. My driver was going to follow suit but I quickly reprimanded him. I have always bee unlucky when it comes to breaking rules. Everyone else might escape but I'd typically be caught. So I try to stay on the right side of the law as much as possible. As the driver negotiated the roundabout to use the right side of the lane, a female LASTMA official and policemen keeping watch under the bridge saw out naivety.
"Oga pass one way. If you pass where you wan pass so, you no go comot there today," the alarmed LASTMA official warned. We needed no further prodding.
The Liverpool area we drove through was where a LASTMA official was stoned to death a few days to Christmas last year. Tajudeen Olatunji Bakare was on duty and the insanity around the Tin Can/Liverpool area must have propelled him into action. He wanted to restore sanity in an area that thrives in chaos. As it turned out, that was his greatest undoing. The bloodthirsty hounds would have none of it. How dare he disrupt their "social disorder"? They descended on him with stones, broken bottles, clubs and any object that could snub life out of a man. Bakare's widow and children are still in agony more than three months after.
A maritime reporter cum fuji musician, Segun Agbolade also died in a most bizarre manner on the neglected Tin Can Island port road. The severely dilapidated state of the road means many have to go in and out of the vicinity on the notorious contraption called okada. Many limbs and lives hold their misfortune to okada.
On March 2 when the usually jovial Agbolade left home for Apapa, little did he know it would be the last time his wife and children would see him again. They said their goodbyes without knowing it would an eternal parting. They parted to meet no more.
After his series of engagement in Apapa, he boarded an okada, but a few minutes into the journey, he was crushed to death by a trailer after falling off the okada. Eyewitnesses said his body was cut in half with the internal organs splattered all over.
It is hard to believe that the Tin Can Island road leads into a facility where government realizes more than one billion naira daily in Customs revenue and another one and a half billion daily through payments to the Nigerian Ports Authority and other taxes.
What is required to fix the road and restore order and decency at Tin Can is certainly less than a month's earning from the port. But who cares about sanity? Is there any value in sanity where insanity rules?
Copyright Ships & Ports Ltd. Permission to use quotations from this article is granted subject to appropriate credit given to www.shipsandports.com.ng as the source.