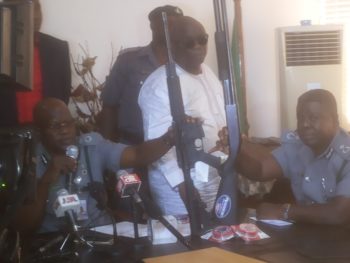 The Tin can Island port command of the Nigeria Customs Service has uncovered a magazine with 10 rounds of live ammunition and 7,500 air gun pallets shipped into the country from the United States.
In addition to these were nine pieces of military bullet proof vest, one gas mask, one piece of helmet, pistol, riffle, 2 pairs of military booth,  26 packs of military already made food, one pair of camouflage wears, jacket, one Omi American Tactical Riffle with S/NO. AR48634 and one Moasberg America Pump Action with S/NO. U648018.
Briefing newsmen at the command yesterday, the Area Controller, Comptroller Yusuf Bashar said the ammunitions and the military wares which were neatly concealed along with other personal effects were discovered in two vehicles, a used Toyota Corolla, 2004 model and a used NISSAN Amada, 2007 model.
"We discovered a certain vehicle with a magazine with 10 live rounds. This was discovered while discharging from the vessel. We got a hint that there is a magazine in one of the vehicles so we isolated the vehicle to give it thorough check so that to ensure that apart from the magazine nothing else illegal is in the vehicle.
"No one knows what we happen this Christmas and New Year if the owner of these items happens to go into the city and cause havoc with gas mask and all these live rounds of pallets," he said.
Bashar said the items are too dangerous to be with unauthorized persons even as he wondered why people will travel abroad and decides to bring back home prohibited items rather than things that will add value to the country.
"These items were found in personal effect container which government graciously said you should not pay duty because you are a Nigerian coming back home. But see the way Nigerians responded to that gesture by bringing in pump action riffles and a gas mask.
"These people have not used their green passports to bring in agricultural equipment or machinery for processing raw materials or anything that will add value to the country. But one decides to bring in these kinds of items that can cause real havoc and pains to the citizens.
"We urged all beneficiaries carrying Nigeria green passport abroad to come back with something that will add value to the country rather than destroying the country," he said.
He recalled that the Command had in recent past, uncovered 900 pieces of live ammunition, two riffles, 300 military uniforms including the recent N2billion worth of cocaine.
He said a suspect, Christain Mbachi, who was arrested in connection with the seizure would be detained at the Customs Enforcement unit while the ammunitions would be handed over the Department for State Security Service (DSS) for further investigation.