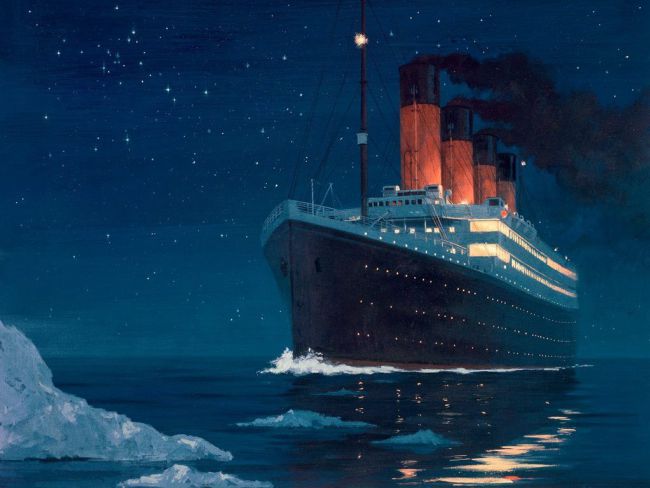 At 2:20 a.m. on April 15, 1912, the British ocean liner RMS Titanic sinks into the North Atlantic Ocean about 400 miles south of Newfoundland, Canada.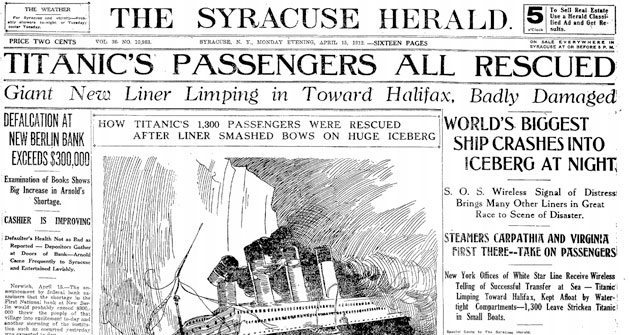 Such were the "fog of war" headlines issued in the early morning hours after the White Star ocean liner Titanic went down 104 years ago today.
Contrary to popular mythology, Titanic was never described as "unsinkable", without qualification, until after she sank. Three trade publications had described Titanic as "practically unsinkable", prior to her sinking, but there is no evidence that the notion of Titanic's unsinkability had entered public consciousness until after the disaster.
While a promotional item from the White Star Line stressed the safety of Olympic and Titanic, claiming that "as far as it is possible to do so, these two wonderful vessels are designed to be unsinkable".
About 3,000 people worked for two years to build the Titanic. Nearly 250 workers were injured: Two died in construction accidents, and six more died aboard the ship during its building, which was a surprisingly good safety record for the time.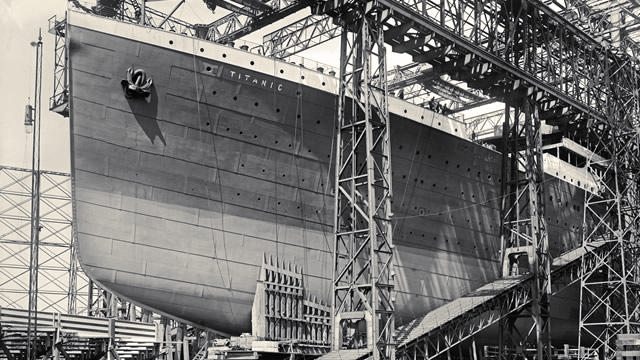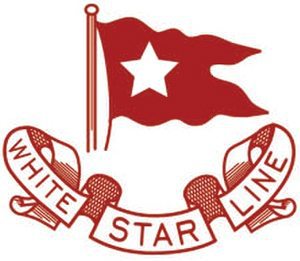 Following the event, claims were made that a curse existed on the ship. One of the most widely spread legends linked directly into the sectarianism of the city of Belfast, where the ship was built. The misfortune was alleged to have been on account of anti-Catholicism by her manufacturers, the Harland and Wolff company, which had an almost exclusively Protestant workforce and an alleged record of hostility towards Catholics. The company's shipyard in Belfast's bay was located in almost exclusively Protestant East Belfast—(an area) through which few Catholics would have even traveled.
Legends and myths regarding RMS Titanic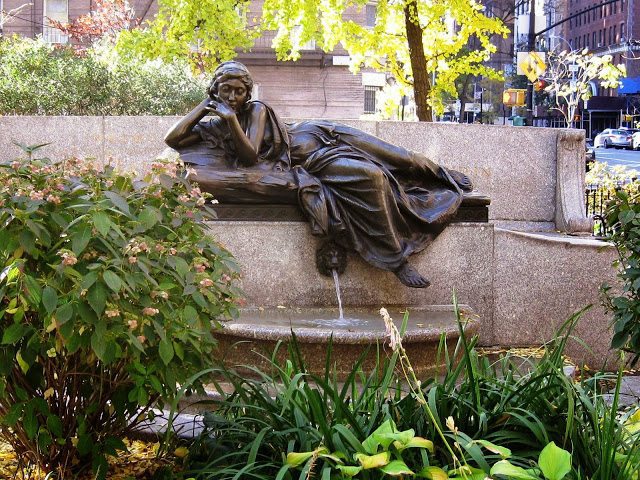 Isidor Straus (February 6, 1845 – April 15, 1912) was a German-born American businessman and co-owner of Macy's department store with his brother Nathan. He also served briefly as a member of the United States House of Representatives. He died with his wife Ida when the ship went down. Ida insisted her newly hired English maid, Ellen Bird, get into lifeboat #8. She gave Ellen her fur coat, stating she would not be needing it.
Isidor Straus's body was recovered by the cable ship Mackay-Bennett and brought to Halifax, Nova Scotia, where it was identified before being shipped to New York. He was first buried in the Straus-Kohns Mausoleum at Beth-El Cemetery in Brooklyn. His body was moved to the Straus Mausoleum in Woodlawn Cemetery in the Bronx in 1928. Ida's body was never found.
The Isidor and Ida Straus Memorial is located in Straus Park, at the intersection of Broadway and West End Avenue at 106th Street (Duke Ellington Boulevard) in Manhattan.[5] The park is one block from where they resided at 105th Street and West End Avenue. An inscription reads, "Lovely and pleasant they were in their lives, and in death they were not divided." (2 Samuel 1:23)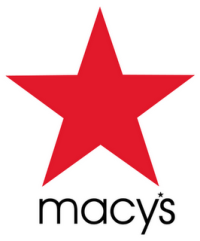 Macy's was founded by Rowland Hussey Macy, who between 1843 and 1855 opened four retail dry goods stores, including the original Macy's store in downtown Haverhill, Massachusetts, established in 1851 to serve the mill industry employees of the area.
Macy moved to New York City in 1858 and established a new store named "R. H. Macy & Co." on Sixth Avenue between 13th and 14th Streets. From the beginning, Macy's logo has included a star, which comes from a tattoo that Macy got as a teenager when he worked on a Nantucket whaling ship, the Emily Morgan.
Titanic in NYC: Places with ties to the ill-fated ship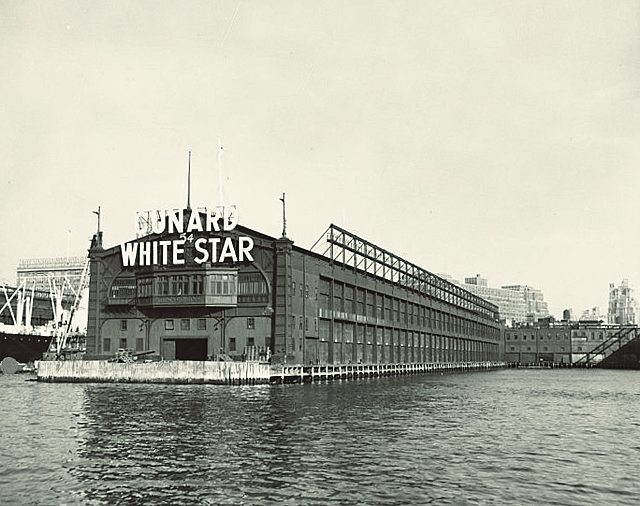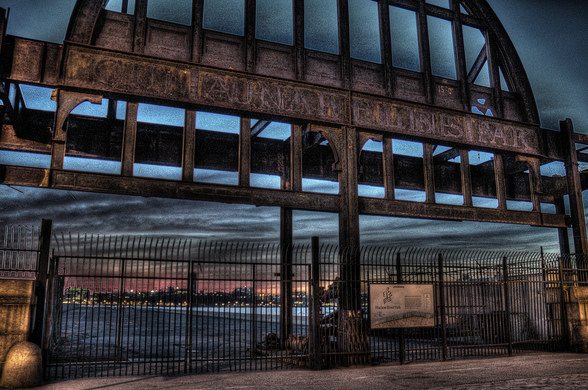 Myth: Black People Were Not Allowed on the Titanic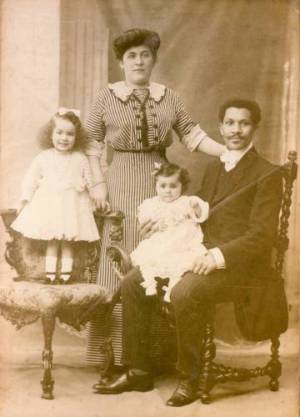 Joseph Philippe Lemercier Laroche (26 May 1886 – 15 April 1912) was a Paris-educated Haitian engineer. He was the only passenger of known African ancestry on the ill-fated voyage of the RMS Titanic. He put his pregnant French wife and their two daughters onto a lifeboat; they survived, but he did not.
One curious legend of the Titanic revolves around Jack Johnson. According to some accounts, Johnson tried to buy a ticket on the Titanic and was, luckily, refused because of his race. He went on to become the first African-American heavyweight champion of the world.
There is no evidence that this is true, but it is the basis for several songs.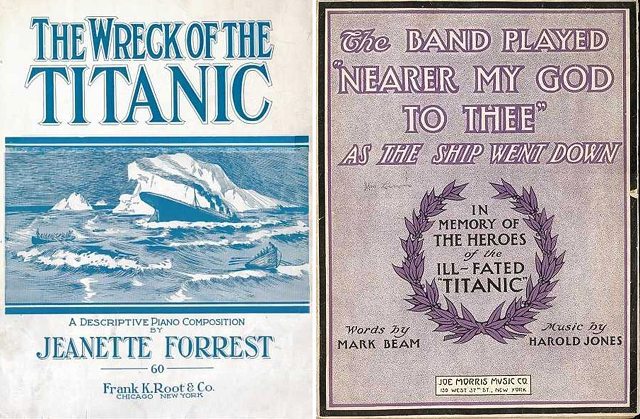 Their exists a huge body of American folksongs about current affairs, from coal-mining disasters in Pennsylvania to Railroad accidents in Kentucky, to the assassinations of Presidents Lincoln and Garfield. Prominent classical and popular songsmiths penned songs about current events for Tin Pan Alley publishers. Within days of the disaster, the songs began to sprout.
One of the most common themes of Titanic songs is the wrath of God. By advertising the ship as "virtually unsinkable" and adding a list of wealthy and prominent passengers, the White Star Line made many people feel the whole voyage reflected hubris, waste, and greed. In many minds, the iceberg was the hand of God.
Copyright Ships & Ports Ltd. Permission to use quotations from this article is granted subject to appropriate credit given to www.shipsandports.com.ng as the source.