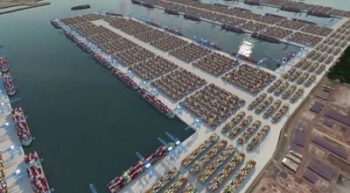 Singapore's Ministry of Transport and terminal operator PSA Corp have selected Toyota and Scania to develop and trial autonomous truck convoys to be used on public roads for inter-terminal transfer.
The two automotive manufacturers will develop autonomous vehicles for truck platooning which involves the lead truck being driven by a human while the trucks behind follow in a driverless convoy.
Trials of truck platooning technology will take place over three years from January 2017 to December 2019. The first phase, expected to take about a year, will focus on testing and refining the technology to adapt to local conditions with Scania and Toyota conducting trials in their home countries.
Based on the outcome of the trials the Ministry and PSA will then select one of the companies for local trials in Singapore utilizing a 10km test route on the country's West Coast Highway running between PSA's Brani and Pasir Panjang Terminals (PPT).
"Trucking as we know it today is a highly labour-intensive industry. We face a shortage of truck drivers," commented Pang Kin Keong, Permanent Secretary for Transport and chairman of the committee on Autonomous Road Transport in Singapore (CARTS).
In this regard, truck platooning technology presents us with an opportunity to boost productivity in both the port sector and the trucking industry. It will also open up opportunities for truck drivers to take on higher-skilled roles as fleet operators and managers."
In the long term it is planned to use truck platooning for transport between PPT and the new Tuas Port currently under construction in the far west of the island. The trucks could also be used for haulage within the port area.
Ong Kim Pong, regional CEO of Southeast Asia for PSA International said, "As PSA prepares for our future terminals at Tuas, it is timely that we move on to the next steps in developing autonomous truck platooning technology."
The Tuas terminal is planned to be highly automated with the first phase expected to start operations in 2020.
Phases three and four of PPT, which started operations in June 2015, feature automated rail mounted gantry cranes, where crane specialist monitor and intervene if necessary.
Copyright Ships & Ports Ltd. Permission to use quotations from this article is granted subject to appropriate credit given to www.shipsandports.com.ng as the source.