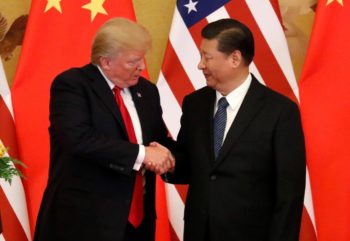 China has offered to buy $70 billion worth of U.S. goods if Washington drops plans to impose tariffs in return, an official in President Donald Trump's administration told AFP on Wednesday, confirming an earlier report.
Top Chinese economic advisor Liu He made the offer during weekend trade talks in Beijing with a US delegation led by Commerce Secretary Wilbur Ross, The Wall Street Journal reported Tuesday.
The new purchases would include soybeans, natural gas, crude oil and coal.
The Commerce Department on Wednesday told AFP no definitive agreement had been reached and no further information was available.
During a regular news briefing Thursday in Beijing, the Chinese commerce ministry confirmed the two sides had discussed detailed proposals during the trade negotiations.
"China and the US carried out in-depth and concrete discussions in some specific areas of trade cooperation, especially agricultural products and energy," said Gao Feng, the ministry's spokesman, when asked about the $70 billion figure.
"China is willing to expand imports from the US under the precondition of both sides walking towards each other," Gao said.
US exports to China last year hit $130.4 billion, according to the Department. A $70 billion package of purchases would amount to a 53.8 percent increase.
For goods alone, the US trade deficit with China hit a record $375 billion last year, and the White House has demanded Beijing cut the imbalance by $200 billion.
"If the United States introduces trade sanctions including tariffs, all the economic and trade achievements negotiated by the two parties will be void," China's official news agency Xinhua said Sunday.
According to the Wall Street Journal, Liu personally explained to Ross the offer would be void in the event Washington imposed additional tariffs.
Trump had announced last week that the US was pressing ahead with plans to impose 25 percent tariffs on $50 billion worth of Chinese imports tied to the tech sector, which Washington says has benefitted from the alleged theft of US know-how and intellectual property.
Washington's trade battles with China, Europe, Mexico and others are an effort to make those countries buy more US goods and force down the US trade deficit, which Trump sees as a job killer and threat to the American industrial base.
Agency Report