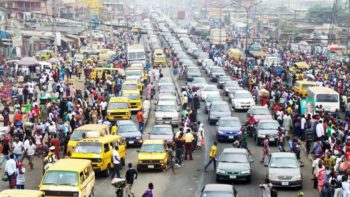 Motorists in Lagos spend an average of N2billion monthly on fuel consumption due to traffic congestion according to a study carried out by a non-governmental organization, Safety Beyond Borders.
From the study about 100,000 cars are trapped daily on the Lekki corridor alone as a journey of 1.5 kilometers which should ordinary take five minutes lasts more than 2hours.
"Especially at peak periods the traffic situation is snail speed. While in traffic ninety percent of the cars have their air-conditioners on; each vehicle burns at least N1,000,00 on fuel. On that average the cars burn in least N100,000 worth of fuel on the daily traffic only on that corridor," the study said.
The study showed that the worsening traffic situation cuts across the State and fuel consumption is on the rise even when fuel price has gone up. Breakdown by the report across various locations including Apapa-Oshodi, Mile 2, Ikeja, Agege, Iyana-Ipaja, Egbeda, and their environs, Ketu, Ikorodu among others add up to this figure.
"Lagosians are forced to burn fuel extraordinarily because of traffic congestion. These traffic go-slow lead to loss of man hours, expenses which are done unproductively without adding value to the wealth of the state," the study said.
Executive Director, Safety Beyond Borders, Patrick Adenusi said the organization carried out the study which will be presented to the Lagos state government as a way of finding lasting solution to the unnerving traffic situation in the State.
According to him, curbing the traffic situation in the State need careful study. "One of the causes of traffic situation in the country is lane indiscipline and we are working out areas through partnerships on how to enlighten Nigerians on the need to maintain their lane while driving.
"Solving the traffic situation in Lagos is not out of this world. If you go to America for instance, you will notice that they took time to study their environment and came up with a plan which has traffic situation permanently contained. The same thing could be done here if we are willing," he said.
It will be recalled that the United Nations Habitat report of 2008 named Lagos as the most populous city in Africa, the second fastest growing on the continent and the seventh fastest growing city in the world. The city was said to have the largest and most extensive road networks in West Africa. In addition, The Lagos Chamber of Commerce and Industry (LCCI) states that the city accounts for over 60 percent of the nation's industrial production outside oil and gas while Lagos ports are the most important in West Africa.
However, from study, indiscipline in driving has always been a problem of in the State of over 20 million people. 
Copyright 2017 Ships & Ports Ltd. Permission to use quotations from this article is granted subject to appropriate credit given to www.shipsandports.com.ng as the source.