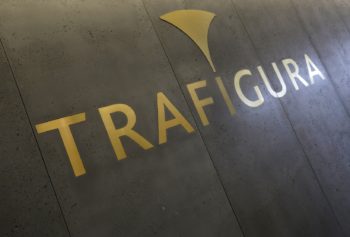 Trafigura's aggregate direct purchases of crude, refined products and natural gas from national oil companies rose in 2016 to a third of its traded volumes, up from about a quarter in 2015, according to the company's annual responsibility report published on Wednesday.
In its 2016 annual financial report, Trafigura said oil purchases had increased significantly from Russian state firm Rosneft and the United States after the country removed a ban on crude exports. It said volumes out of the Middle East also rose.
Swiss-based Trafigura was the first trading firm to join the Extractive Industries Transparency Initiative (EITI) in 2014 and as part of that, publishes payments to governments for oil.
In 2016, Trafigura bought 1.5 million barrels per day (bpd) of oil from national oil companies (NOCs) out of its total oil volume of 4.3 million bpd, according to its disclosures on payments to governments for oil.
In 2015, the volume from NOCs accounted for 767,000 bpd out of 3 million bpd.
Some of the rise was seen in EITI countries, namely a near doubling in refined products volume from Trinidad and Tobago where it had some spot prepayments.
Trade of liquefied natural gas accounted for about 3 percent of the firm's total traded volumes in 2016.
Most of the 2016 trade was done with non-EITI countries and worth $20.1 billion against $1.1 billion with EITI countries. In 2015, the value of purchases with non-EITI governments was $12.7 billion versus $0.9 billion with EITI ones.
While the move to increase transparency in the sector has been growing, key producers such as Russia and OPEC members Saudi Arabia and Angola are absent. The United States announced in early November that it would no longer be an EITI implementing country after joining in 2014.
The EITI was founded in 2003 and has 52 member countries.
Trafigura has been involved in a crude-for-product swap scheme in Nigeria for several years.
In 2015, Trafigura said it exchanged about 2,000 bpd of refined products with EITI country Nigeria as part of a swap scheme. In 2016, Trafigura said it purchased about 8,000 bpd of crude from Nigeria state firm NNPC.
Agency Report