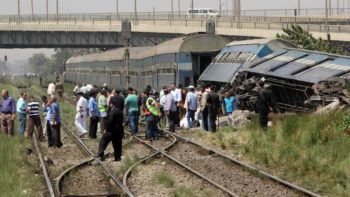 At least 55 people were injured on Friday when a passenger train derailed south of Egypt's capital Cairo, an assistant to the health minister told state television.
"Most of the injuries are minor," Ahmed Mohei said.
Three carriages on a train headed to the southern province of Qena went off-track, state news agency MENA said citing a transport ministry statement.
Public Prosecutor Nabil Sadek ordered an investigation into the accident, the cause of which remains unknown.
Egyptians have long complained that governments have failed to enforce safety on the antiquated rail network.
Agency Report