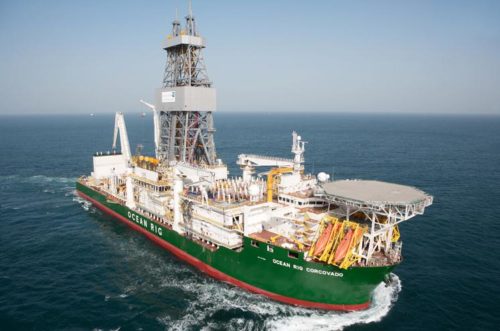 The world's largest offshore drilling company, Transocean Ltd, is buying a smaller rival in a $2.9 billion deal, with rates for deepwater rigs forecast to double in two years.
The cash-and-stock acquisition of Ocean Rig UDW Inc. will give Transocean a fleet of nine ultra-deepwater drillships and two harsh environment semisubmersibles, plus two additional ships under construction, the companies said in a statement Tuesday.
Offshore oil drilling was hit particularly hard during the price slump, squeezed by higher costs and the resurgence of the U.S. shale industry. As major oil companies from Exxon Mobil Corp. to BP Plc canceled offshore projects, the groups that provide the high-tech drilling ships needed to operate in deep waters suffered.
Customer interest in offshore activities is now increasing. Day rates for ultra-deepwater drilling will double by 2020, Vernier, Switzerland-based Transocean said on a conference call with analysts to discuss the deal, citing data from Wood Mackenzie Ltd. Once the Ocean Rig transaction is complete, Transocean will have 57 floaters.
"The combination of constructive and stable oil prices over the last several quarters, streamlined offshore project costs, and undeniable reserve replacement challenges has driven a material increase in offshore contracting activity," Transocean Chief Executive Officer Jeremy Thigpen said in the statement.
Given Ocean Rig's high-quality floater fleet and "relatively clean" balance sheet, Ocean Rig was a prime take-out target and the merger is "a highly logical strategic fit," Tudor, Pickering, Holt & Co. said in a note after the deal was announced.
The Ocean Rig deal is the largest in the oil and gas drilling industry this year, according to data compiled by Bloomberg. It's Transocean's biggest acquisition since its purchase of Songa Offshore SE, which was completed in January.
Transocean is offering 1.6128 newly issued shares plus $12.75 in cash for each share of Ocean Rig. Upon completion, Transocean shareholders will own about 79 percent of the combined company and Ocean Rig shareholders will own the remainder.
Transocean plans to finance the purchase with cash on hand and funding commitments from Citigroup Inc.
The deal is expected to close in the first quarter. The transaction values Ocean Rig at about $32.28 per share, or a 20 percent premium over its closing share price on Aug. 31.
The value of the deal when Ocean Rig's net debt is included is about $2.7 billion Transocean also said it will retire two floaters, the ultra-deepwater drillship C.R. Luigs and the midwater floater Songa Delta
Citigroup is acting as adviser on the deal for Transocean. Credit Suisse Group AG is Ocean Rig's adviser. Transocean fell 6.6 percent to $11.31 at 10:50 a.m. in New York, while Ocean Rig rose 12 percent to $30.20.
Source: Bloomberg