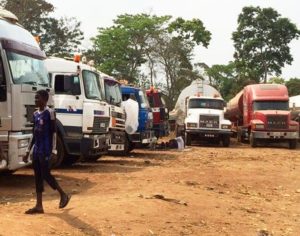 An exporter, Titi Olukayode, has narrated how the driver and conductor of a truck that he hired to convey his goods from Oyo to Lagos port conspired to broke the key that was used to lock a container and stole 11 tons out of the 21 tons of wood charcoal, which they sold to a yet-to-be-identified woman in Igbo-Ora community in Oyo State. He puts the value of the stolen wood charcoal at N1.2million.
According to Olukayode, those who live in the neighbourhood where the duo stopped to open the container saw the truck conductor offloading the wood charcoal into a smaller lorry and when he was confronted by one of the eye-witnesses, he told the eye-witness that the driver was aware of it.
"They did this carefully hoping that I will not know about it," the exporter told SHIPS & PORTS DAILY. 
He disclosed that luck however ran out of the duo when the Apapa Port Police Division arrested them.
"The truck conductor had already ran away as soon as the offence was committed. The driver was arrested and later produced the truck conductor while the truck conductor also produced the woman he sold the wood charcoal to," he said.
The matter was brought before Apapa Magistrate Court yesterday where the two accused pleaded not guilty to the charges against them.
The Magistrate granted the accused bail in the sum of N200,000 each with two sureties in like sum. The sureties must have a reliable source of income with evidence of tax payment.
The case was adjourned to December 13, 2016 for trial.