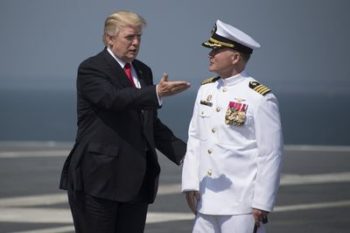 President Donald Trump urged Congress to pass a budget that provides for higher, stable and predictable funding for the U.S. military.
"Call that congressman and call that senator, and make sure you get it," Trump said Saturday at the commissioning of the Gerald R. Ford, the Navy's newest aircraft carrier. "We must end the defense sequester once and for all."
Trump visited the $12.9 billion nuclear-powered carrier in Newport News, Virginia, to cap off the White House's "Made in America" week, a series of events designed to highlight the administration's push to increase domestic manufacturing.
That effort was largely overshadowed by tumult within the administration, including Friday's hiring of investment banker Anthony Scaramucci as White House communications director and the subsequent resignation of press secretary Sean Spicer. The president earlier in the week said in an interview that he regretted appointing Attorney General Jeff Sessions, and warned the special counsel leading a probe into Russia's campaign meddling not to investigate unrelated dealings by his family business.
On Saturday, the president stuck mostly to script in a patriotic speech of about 16 minutes, extolling the new vessel as the centerpiece of his effort to rebuild the nation's naval fleet. The 1,100 foot super-carrier boasts the first new design in around 40 years, and features state-of-the-art navigation and weapons systems.
The president has said he wants to expand the Navy's fleet to 350 from the 276 deployed today. He committed to ending the defense sequester, a hard cap on spending, shortly after taking office.
"Today, this ship officially begins its role in the noble military history of our great nation," Trump told the roughly 5,000 people present. They included former Vice President Dick Cheney and former Defense Secretary Donald Rumsfeld, both of whom served in President Ford's administration.
Saluting the workers who built the vessel and the personnel who'll man it, Trump said "your skill and your grit build the instruments of war that preserve peace. This ship is the deterrent that keeps us from having to fight in the first place."
"We will win, win, win, never lose. We will win," Trump said. "We don't want a fair fight — we want just the opposite. We demand victory, and we will have total victory."
The carrier is also emblematic of some of the Pentagon's procurement difficulties. The Ford was delivered 32 months later than planned, and will still need some $780 million in additional work, according to the Government Accountability Office. That's on top of a cost increase of as much as 22 percent.
Trump has frequently criticized military cost overruns and did so again Saturday. The U.S. must reform the defense acquisitions process to "ensure we get the best equipment at the best prices," he said.
The Ford, built by Huntington Ingalls Industries Inc., isn't expected to be ready for combat deployment for at least four years, having yet to complete its navigation and cyber-security inspections. In addition, the carrier hasn't yet been cleared to launch fighters carrying extra fuel in wing tanks because of software issues with the new electromagnetic catapult system that cause excessive stresses at launch.
Susan Ford Bales said that her father, who enlisted in the U.S. Navy months after the 1941 Pearl Harbor attack by Japan, had learned 7before his death in 2006, during the administration of George W. Bush, that a carrier would be named after him.
Joseph Dunford, chairman of the Joint Chiefs of Staff, said later Saturday during a speech at the Aspen Security Forum in Colorado that budget woes in the past seven years have hit the U.S. military's edge over other nations.
"The most insidious effect of the budget challenges is our competitive advantage has eroded," he said. That caused major programs to be scaled back and delayed development of future capabilities and modernization, at a time when the U.S. is stretched with global commitments, he said. It's led to a "degradation of capability."
"This is not the time for a period of weakness," Dunford said. Asked if the sequester has made the situation worse, he replied yes.
"The area that we're most challenged in is our ability to project power when and where necessary because our adversaries have looked at our competitive advantage" in areas such as naval capabilities, cyber and outerspace, he said.
Dunford said North Korea is on an "irreversible path" toward developing a nuclear-capable intercontinental ballistic missile. While the U.S. is able to defend against Pyongyang's current capability of a limited missile attack, he said there are concerns about its growth and capacity to develop an ICBM with a nuclear weapon. 
Copyright Ships & Ports Ltd. Permission to use quotations from this article is granted subject to appropriate credit given to www.shipsandports.com.ng as the source.