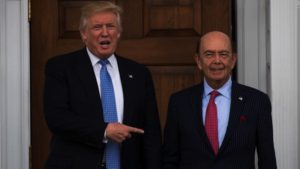 U.S. President-elect Donald Trump is expected to select billionaire shipowner Wilbur Ross Jr as Secretary of the Commerce Department.
The Commerce Secretary, a cabinet-level position that requires Senate confirmation, typically serves as the government's chief business advocate.
The Commerce Secretary is a liaison between companies and the White House.
Ross, 78, built his fortune investing in troubled companies, including the oil and gas, steel and financial industries.
He has a large ownership stake in Navigator Holdings, and his Diamond S Shipping is one of the world's biggest owners of medium-range products tankers.
Trump acknowledged he was considering Ross for commerce when the two met on Nov. 20.
"That's what we're looking for," Trump told reporters.
According to the Wall Street Journal, Ross was tapped by the Republican National Committee to raise money for the presidential race nominee before Trump secured the nomination.
After Trump became the likely nominee in June, he asked Ross to join his economic advisory team.
Ross worked on policies proposing overhauls of U.S. trade and regulatory policy in the last months of the campaign with Peter Navarro, an economist who has been extremely critical of U.S. policy towards China.
"I favour world trade myself. A lot of our businesses engage in international trade. But over the years I've also learned quite a few of the trade deals that we've made have been just plain bad deals," he told Journalists earlier this year. "There's nothing inconsistent with being an advocate of trade and yet saying you need to do deals that make sense."
Copyright Ships & Ports Ltd. Permission to use quotations from this article is granted subject to appropriate credit given to www.shipsandports.com.ng as the source.