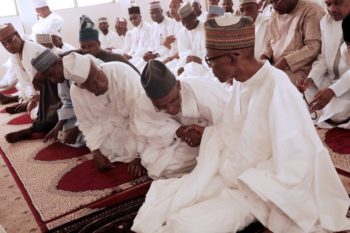 President Muhammadu Buhari was on Friday absent at the Juma'at service held inside the Presidential Villa, Abuja.
The President has been joining Muslim faithfuls for the prayers inside a mosque near his office since he stopped attending the service at the National Mosque, Abuja. There were various reactions by Nigerians, however, on the social media especially on twitter. Below are some of the reactions:
Buhari wil be working from home-Lia Mohammed
Is like telling HR i will be frm workin home
Baba resign you`ve achieve your aim after 3 fail.

— Femi Oyedun 🇳🇬 (@Femioyedun) April 28, 2017
This is not

fair, the only day we look forward to seeing 'out messiah' Buhari, Abba

Kyari and his APC goons hid him from us. #Sad

— Mr. Tony (@MrTohNey) April 28,

2017
Buhari

Absent at Jumat Prayers Today. Seems he is now praying from home too..

—

Adesina Tosin (@Donteewrites) April 28,

2017
Pls God

heal our President don't let him die, I will always pray for u and I know u

will make it thorough. I love u buhari !!

— Dutchman Wallace

(@dutchmanwallace) April 28,

2017
Buhari's absence in Jumuat mosque making headlines. May God grant him

speedy recovery🙏🏻

— Aliyu Saleeh Kiru (@aliyu_saleeh) April 28,

2017
Re:

Buhari's Health.

We are steadily, surely, going the Yar'adua route.

Men like Fayose will soon get a chance to say "We told you

so".

— JohnKerry™ (@saheedakinloye_) April 28,

2017
At this

point, all l can say is that God should take control & restore Buhari's

health. As well as give him the wisdom to do right.

RESIGN! https://t.co/LRyXGhgBMf

— Charles the

1st (@9jaBloke) April 28,

2017
Friday

lunch is the best eziokwu…
You hammer a bowl of Akpu with vegetable soup and

then wash it down with mmanya bcoz work have close. 😆

— WhistleBlower

(@Howardie_5) April 28,

2017
No work no

pay according to Labour law. Buhari will not be paid his salary for the month of

April

— Saint mienpamo (@mienpamo) April 28,

2017
In addition

to working from home, Buhari now prays from home

— Nduka Odo, CCFR

(@NdukaOdo) April

28, 2017
Buhari is

sick..he was absent at FEC meetin,it was announced he wud start workin frm home on

Wed,he was absent for jumat service at Aso rock

— Olaleke Tope

(@mister_topsy) April 28,

2017
Three state governors who apparently planned to join Buhari for the prayers were however present.
The governors who attended the prayer session included Ibikunle Amosun (Ogun); Abdulaziz Yari (Zamfara); and Abdullahi Ganduje (Kano).
The governors had on Thursday joined their colleagues for a meeting of the National Economic Council at the Presidential Villa, Abuja.
No official reason has been given for Buhari's absence at the prayer session at the time of filing this report.
It will, however, be recalled that the Presidency had on Thursday said as eager as the President wanted to be up and about, his doctors have advised him to take things slowly.
In the statement by the Senior Special Assistant to the President on Media and Publicity, Garba Shehu, the Presidency, however, assured Nigerians that there is no need for apprehension over the state of health of the President.
While saying that the President himself on his return to the country made Nigerians aware of the state of his health while he was in London, Shehu said full recovery is sometimes a slow process, requiring periods of rest and relaxation, as the Minister for Information and Culture, Lai Mohammed, intimated in his press briefing after the FEC meeting on Wednesday.
He added, "Despite his lack of visibility, Nigerians should rest assured that President Buhari has not abdicated his role as Commander-in-Chief of Nigeria. He receives daily briefings on the activities of government and confers regularly with his Vice President, Professor Yemi Osinbajo.
"His private residence, in which he has been spending the majority of his time recently, also has a fully equipped office.
"God is the giver of life and health. We are grateful that He has seen our President through the worst period of his convalescence in London.
"We are thankful that the President has passed a number of benchmarks already. We pray that God continues to see him through this period of recuperation."
Copyright Ships & Ports Ltd. Permission to use quotations from this article is granted subject to appropriate credit given to www.shipsandports.com.ng as the source.