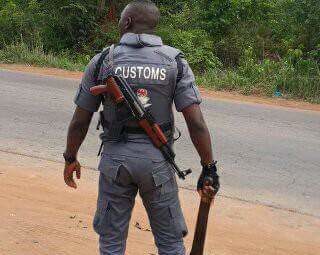 Two persons were allegedly killed, eight others injured at Ilara, Imeko-Afon Local Government Area of Ogun State, when officers of the Nigeria Customs Service (NCS) and suspected smugglers clashed, over the weekend.
According to an eyewitness, who put the time of the incident at about 8.30am on Saturday, said trouble started when officers and soldiers stormed a park at the border between Ilara (Nigeria) and Konga/Segbeluku (Benin Republic) to intercept truckloads of rice heading into the country.
He said the smugglers showed resistance, resulting in a shouting match between the armed operatives and smugglers which eventually led to an exchange of gunfire.
At the end of the shootout, two persons were feared dead and eight others injured.
One of the dead was identified as Wole Bankole, whose sister also sustained gunshot injuries. Another person, identified as Ganiyu, had been taken to a hospital inside the Benin Republic.
The spokesman of the Ogun State Command of the service, Abdullahi Maiwada, confirmed the incident on Sunday but said the number of causalities could not be ascertained at the time of this report.
He said "They were confronted with minimal force when they violently resisted arrest. I understand that there were casualties, the exact figure of which I am not certain for now. But, the situation is under control as I speak with you."