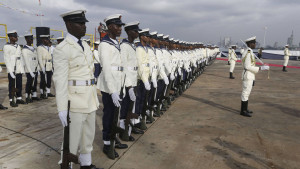 Two policemen and a Naval rating lost their lives on Tuesday night in Calabar after some suspected Naval officers attacked a Police Division in the capital city of Cross River State.
According to eyewitnesses, trouble started at 5 pm local time on Tuesday when police traffic controllers attempted to stop some naval officers who flouted the red light at a point near the Calabar Township.
It was also gathered that the policemen were not only ignored but were also beaten up by the naval officers.
Apparently unsatisfied at the law-breaking attitude, the affected naval officers mobilized more personnel to storm the Akim Police Station in a war-like manner and torched the building which soon went up in flames. In the ensuing mayhem, two policemen were killed while the naval rating also got killed in apparent reprisal action.
The situation around the area was tense on Wednesday as residents stayed while awaiting further development, even as both naval and police authorities have moved to calm frayed nerves.
Navy spokesperson, Suleiman Dahun, denied knowledge of the skirmish. He, however, promised to investigate the information.
But Police spokesperson, Jimoh Moshood, could not be reached on the telephone at the time of filing this report.
Eyewitnesses on Wednesday confirmed the three victims.
"We fear there are more casualties," one of the eyewitnesses  said. He also said  that the naval men who torched the police station had barred the Cross River State Fire Service from putting out the inferno which raged through the night.
Clashes among security forces are a common occurrence in Nigeria and they often resulted from avoidable disagreement.