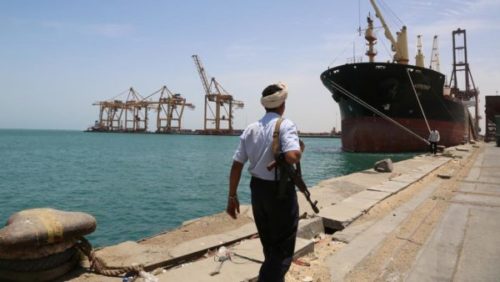 The United Nations said on Friday it is ready to help supervise Yemen's Hodeidah port to protect the vital supply lifeline from "potential destruction," as its envoy to the war-damaged country met managers of the Houthi-held harbour.
Western countries are pressing for a ceasefire and renewed peace efforts to end the country's three-year-old conflict amid international concern that half the population, or some 14 million people, could soon be on the brink of famine.
U.N. spokesman, Rheal LeBlanc, told reporters in Geneva that U.N. envoy, Martin Griffiths, had specific ideas about managing the port that he would present to the parties to the conflict.
"As he (Griffiths) has said many times, the UN stands ready to work with the parties on a negotiated agreement, to grant a supervisory role for the UN in managing the port, which would protect the port itself from potential destruction, and preserve the main humanitarian pipeline to the people of Yemen," LeBlanc said.
Griffiths arrived earlier in the day in Hodeidah, the latest focus of the war between the Houthi group, which controls the city, and pro-government forces backed by Saudi Arabia and the United Arab Emirates.
The port is an important supply line to the Houthi-controlled capital Sanaa, located in mountains to the northeast of Hodeidah, as well as to much of the rest of the country.
Griffiths told the U.N. Security Council last week that Yemen's parties had given "firm assurances" they were committed to attending peace talks he hopes to convene in Sweden in December.
LeBlanc said Griffiths wanted a stop to a recent escalation in fighting around Hodeidah in order to "create a conducive environment" for the Sweden consultations.
Griffiths visited Sanaa on Thursday to talk to Houthi leaders about their attendance in Sweden.
The Saudi-led, Western-backed coalition intervened in Yemen in March 2015, to restore the internationally-recognized government that was ousted from Sanaa in 2014 by the Houthis.
The last available figure from the United Nations for the death toll from the conflict, seen as a proxy war between Saudi Arabia and Iran, was in 2016 and stood at more than 10,000.
An estimated 85,000 children under five may have starved to death in Yemen since 2015, Save the Children said on Thursday.