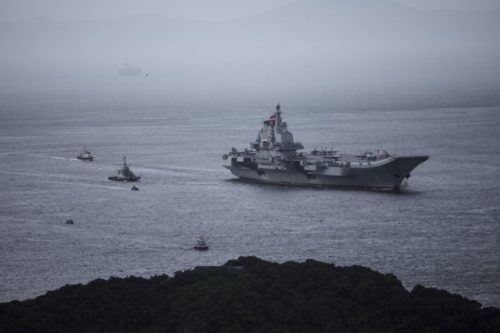 The U.S. accused China's navy of "unsafe and unprofessional" conduct near a Chinese occupied reef in the disputed South China Sea, in the latest show of tensions between the countries amid their escalating trade war.
A U.S. Navy vessel, the USS Decatur, was sailing "in the vicinity" of Gaven Reef on Sunday when a Chinese destroyer confronted it with "an unsafe and unprofessional maneuver," said Lieutenant Commander Tim Gorman, a spokesman for the U.S. Pacific Fleet. The destroyer "approached within 45 yards of Decatur's bow, after which Decatur maneuvered to prevent a collision."
Meanwhile, China accused the U.S. of violating its "indisputable sovereignty" over the South China Sea feature — a claim that runs counter to a 2016 ruling by an international arbitration panel in the Hague. 
"We strongly urge the U.S. side to immediately correct its mistake and stop such provocative actions to avoid undermining China-U.S. relations and regional peace and stability," Foreign Ministry spokeswoman Hua Chunying said in a statement on Tuesday. 
Military tensions between the U.S. and China have been rising as a worsening trade war prompts concern in Beijing over whether President Donald Trump's latest tariffs are part of a broader plan to stop the country from eroding American dominance of the Asia-Pacific region.
Beijing claims more than 80 percent of the South China Sea, based on a 1947 map showing vague dashes — the so-called nine-dash line. Five other countries, including Vietnam and the Philippines, have also staked claims in the area, which is one of the world's busiest shipping routes.
Although the U.S. takes no position on the competing claims, its Navy regularly carries out freedom of navigation operations — known as "FONOPs" — by sending warships and aircraft near disputed waters to demonstrate the right to travel through what it considers international waters and airspace. The People's Liberation Army has however sought to contest such moves in territory it considers China's.  
Copyright Ships & Ports Ltd. Permission to use quotations from this article is granted subject to appropriate credit given to www.shipsandports.com.ng as the source.