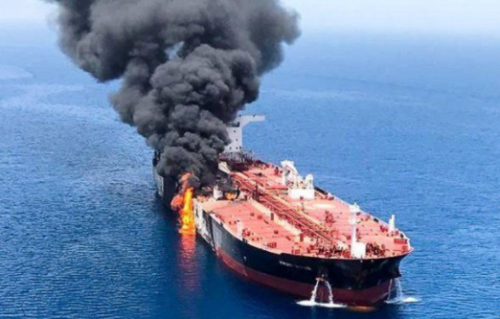 U.S. Secretary of State Mike Pompeo has accused Iran of instigating the Thursday attacks on two fuel tankers in the Gulf of Oman.
He said the assaults were the latest in a series of hostile actions meant to disrupt the flow of oil.
"Taken as a whole, these unprovoked attacks present a clear threat to international peace and security, a blatant assault on the freedom of navigation, and an unacceptable campaign of escalating tension by Iran," Pompeo said, vowing the U.S. would defend itself and its partners.
The flare-up is the latest since President Trump's decision last year to pull out of a 2015 international deal to cap Iran's nuclear program.
Four tankers were attacked last month in the Gulf of Oman, an incident the U.S. also blamed on Iran.
Pompeo presented no evidence to support his claim about Iran's involvement. Iran has denied responsibility for any of the attacks, including Thursday's, and suggested hostile actions might be the work of actors seeking to draw the region into chaos.
"All countries in the region should be careful not to fall in the trap of those who benefit from regional insecurity," Iran's government spokesman Ali Rabei was quoted as saying by the Fars news agency.
Iran's Foreign Minister Javad Zarif also suggested that the attacks were intended to vilify his country.
"Suspicious doesn't begin to describe what likely transpired this morning," Mr. Zarif wrote on Twitter.
Oil prices rose sharply over fears of a broader military confrontation in the Persian Gulf and the potential for trade disruptions in the Strait of Hormuz, through which over a third of the world's seaborne crude oil is shipped. Brent crude, the international benchmark for crude prices, rose as much as 4% before losing some of those gains.
The attacks, including on a Japanese tanker, came just hours before Prime Minister Shinzo Abe of Japan met in Iran with Iranian Supreme Leader Ayatollah Ali Khamenei to try to ease the standoff.
Abe has attempted to work as a mediator between Washington and Tehran, but Khamenei dismissed Abe's effort, darkening prospects for dialogue.
"We don't believe these words at all because honest negotiations will not come from an individual such as [President] Trump," Iranian state television quoted Khamenei as saying.
Attacks off the coast of Iran damaged two tankers early Thursday, causing fires and forcing crews to abandon both tankers.
U.S. military officials said Thursday night that U.S. personnel in the region had witnessed what was believed to be an Iranian patrol boat approaching the Japanese ship and observed and recorded Iranian forces removing an unexploded mine from the damaged tanker.
Copyright Ships & Ports Ltd. Permission to use quotations from this article is granted subject to appropriate credit given to www.shipsandports.com.ng as the source.