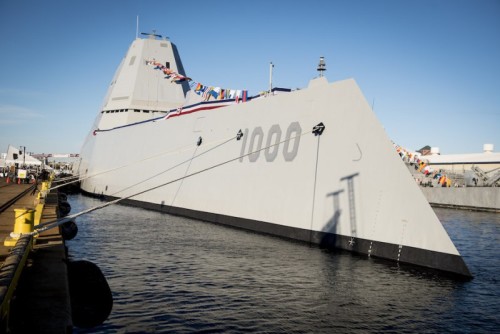 The U.S. Navy's biggest and most technologically advanced warship, USS Zumwalt (DDG 1000), was put into service Saturday during a commissioning ceremony at Baltimore Fleet Week.
The multi-billion dollar Zumwalt is the lead ship in a class of next-generation destroyers known for their high-tech electric propulsion, wave-piercing tumblehome hull, advanced weapon systems, and super stealth design that reduces the 610-foot warship's radar profile to that of a small fishing boat.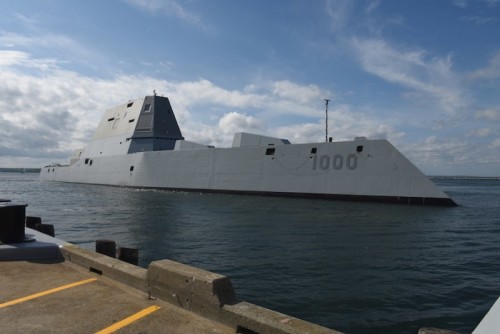 The Zumwalt-class destroyers are built for a range of missions including deterrence, power projection, sea control, and command and control missions, allowing for sustained operations particularly in the close-to-shore littorals and land attack. They are the first Navy warships to use a 78 megawatt integrated power system that not only produces enough power to run current systems, but also provides enough power for the addition of future weapons, computing, and sensor systems as they are delivered to the Navy's fleet.
In addition to its advanced propulsion systems, the Zumwalt is much larger than today's destroyers. At 610 feet long and 80.7 feet wide, its is 100 feet longer and 13 feet wider and its flight deck is 93 percent larger than an Arleigh Burke-class destroyer despite having a much smaller crew.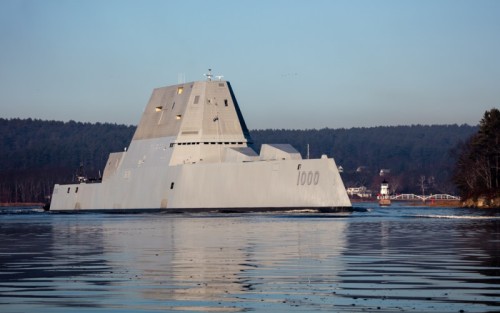 Construction on USS Zumwalt (DDG 1000), the first of three planned ships in the Zumwalt-class, began in February 2009 at the General Dynamics Bath Iron Works shipyards in Bath, Maine. Since December 2015, the ship has undergone a series of sea trials before delivery to the U.S. Navy in May. Zumwalt left the shipyard in September and is currently conducting Hull, Mechanical, and Electrical (HM&E) test and trials, with Combat and Mission System Equipment installation, activation and more testing to follow.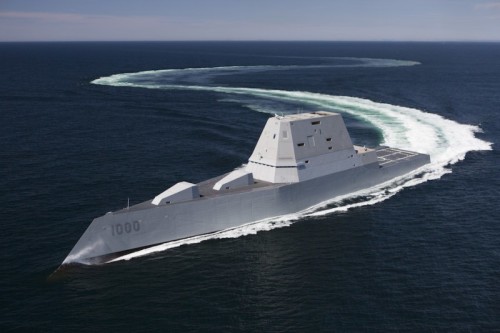 Speaking during Saturday's commissioning ceremony, Secretary of the Navy, Ray Mabus, commented:
"This ship is an example of a larger initiative to increase operational stability and give the U.S. a strategic advantage. Our Navy and our Marine Corps, uniquely, provide presence – around the globe, around the clock – ensuring stability, reassuring allies, deterring adversaries, and providing the nation's leaders with options in times of crisis.
"This destroyer, like the others in our fleet, is capable of projecting power, no doubt. The Zumwalt-class is much larger than today's destroyers with a considerably larger flight deck – enough space to operate host Joint Strike Fighters, MV-22 Ospreys, and unmanned systems and a Vertical Launch System second to none," added Secretary Mabus.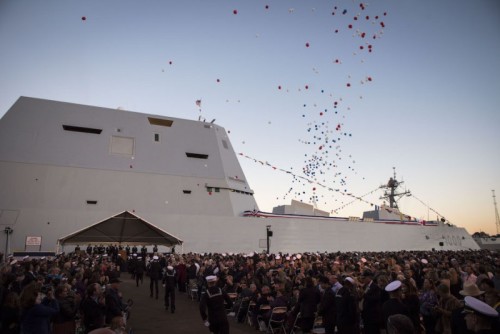 "Today's ceremony marked the culmination of over three years of dedication and hard work by some of the finest Sailors I have had the pleasure to lead," said Capt. James A. Kirk, commanding officer of the USS Zumwalt. "The only thing more impressive than the capabilities of the ship are the capabilities of its fine crew."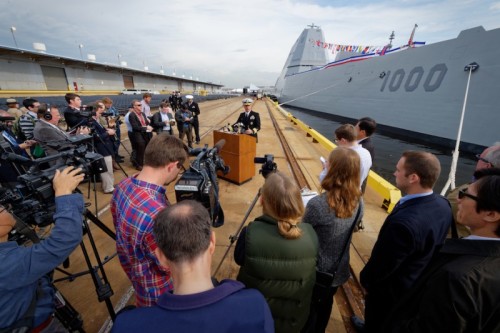 Adm. Elmo R. Zumwalt, Jr.
DDG-1000 and the Zumwalt-class is named after Adm. Elmo R. Zumwalt, Jr., the nineteenth Chief of Naval Operations and a veteran of World War II and the conflicts in Korea and Vietnam during his 32 years of service, the U.S. Navy says.
"I witnessed as he [Zumwalt] transformed our Navy, one Z-gram at a time… removing demeaning and abrasive regulations and moving to eliminate the scourge of racism and sexism from within our Navy," said Mabus. "Among many initiatives, he opened flight training to women and increased recruiting of under-represented Americans. And, as has always been the case when we open opportunities in our Navy and Marine Corps, we got stronger."
Chief of Naval Operations (CNO) Adm. John Richardson, who also spoke during Saturday's ceremony, commenting on the significance of the ship's namesake.
"Admiral Zumwalt, especially during his time as CNO, ensured that our institution lived by its values," said Richardson. "He was the 'The Sailor's Admiral,' looking at new ideas, acting to the limit of his authorities, and adjusting along the way to make his Navy ready for combat – but also with full cognizance of the impact on the Sailors that made up that Navy."
Perhaps most importantly, Adm. Zumwalt was a social reformer who recognized the primary force-multiplier of the U.S. Navy continued to be its Sailors, and as such began quality of life improvements throughout the Fleet. He was considered a "thinking officer" who was devoted to Sailors and creating an environment where everyone was treated equally – a legacy that can that can be seen today in the diversity of the fleet. His "one Navy" mentality reminds today's Sailors that taking care of our warfighters ensures the Navy remains tough, bold and ready.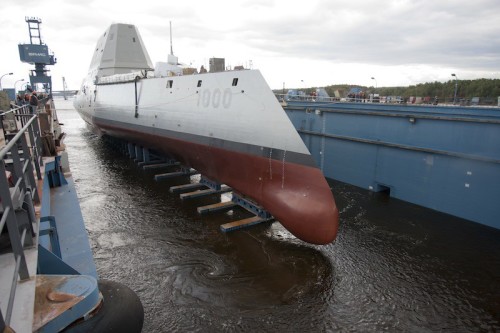 USS Zumwalt is scheduled to begin her transit to San Diego, making several port visits along the way. Upon arrival in San Diego, USS Zumwalt will begin installation of her combat systems, testing and evaluation, and operational integration with the fleet.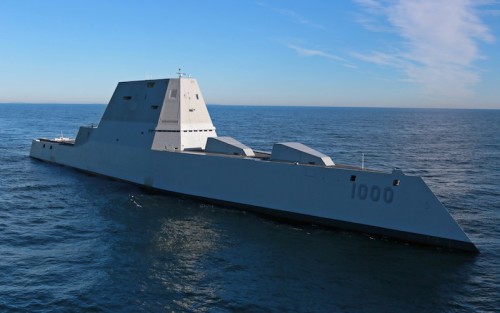 The second ship in the Zumwalt class, DDG 1001, was named Michael Monsoor in October 2008 by then-Secretary of the Navy Donald Winter, honoring Petty Officer 2nd Class Michael Monsoor, a Navy SEAL who was posthumously awarded the Medal of Honor for his heroic actions in Ramadi, Iraq, Sept. 29, 2006. DDG 1001 start of fabrication took place in October 2009. In July 2014, Huntington Ingalls Industries (HII) delivered the DDG 1001 composite deckhouse to the Navy.
In April 2012, DDG 1002 was named Lyndon B. Johnson by Secretary of the Navy Ray Mabus. DDG 1002 start of fabrication took place April 4, 2012.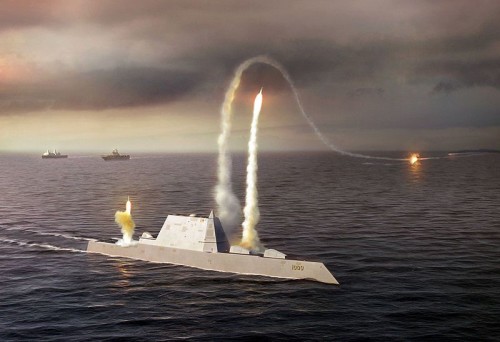 Zumwalt key features
DDG 1000 is the first U.S. Navy surface combatant to employ an innovative and highly survivable Integrated Power System (IPS). Key design features that make the DDG 1000 IPS architecture unique include the ability to provide power to propulsion, ship's service, and combat system loads from the same gas turbine prime movers. DDG 1000's power allocation flexibility allows for potentially significant energy savings and is well-suited to enable future high energy weapons and sensors.
The wave-piercing tumblehome hull design has provided a wide array of advancements. The composite superstructure significantly reduces cross section and acoustic output making the ship harder to detect by enemies at sea. The design also allows for optimal manning with a standard crew size of 175 sailors, with an air detachment of 28 thereby decreasing lifecycle operations and support costs.
Multi-function radar (MFR): DDG 1000 will employ active and passive sensors and a Multi-Function Radar (MFR) capable of conducting area air surveillance, including over-land, throughout the extremely difficult and cluttered sea-land interface.
Advanced Gun Systems: Each ship features a battery of two Advanced Gun Systems (AGS) firing Long-Range Land Attack Projectiles (LRLAP) that reach up to 63 nautical miles, providing a three-fold range improvement in naval surface fires coverage.
General Dynamics Bath Iron Works in Maine is responsible for design, construction, integration, testing and delivery of the DDG 1000 class, and DDG 1002 steel deckhouse, hangar and aft Peripheral Vertical Launch System (PVLS). Huntington Ingalls Industries (HII) is responsible for the fabrication of the composite deckhouse, helo hangar and aft PVLS for DDG 1000 and DDG 1001. Raytheon is responsible for software development and integration with BAE providing the AGS and LRLAP.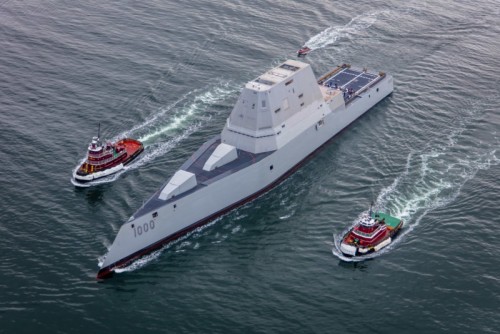 ZUMWALT CLASS (DDG 1000) Specifications
Builder: General Dynamics Bath Iron Works
Electronics: SPY-3 Radar and Combat System Integrator: Raytheon is the prime contractor responsible for the Design and Development of the ZUMWALT Mission System, including software, Mission System Equipment (MSE) and many of the sensors for the DDG 1000 Class.
Propulsion: (2) Main Turbine Generators (MTG); (2) Auxiliary Turbine Generators (ATG); (2) 34.6 MW Advanced Induction Motors (AIM)
Length: 610 ft
Beam: 80.7 ft
Displacement: 15,656 L tons
Speed: 30 knots
Crew: 158 (including air det)
Armament: (80) Advanced Vertical Launch (AVLS) cells for Tomahawk, ESSM, Standard Missile; (2) Advanced Gun System (AGS) 155 mm guns; Long-Range Land Attack Projectiles (LRLAP) 155 mm rounds; (2) MK 46 Close In Guns (CIGS)
Aircraft: (2)MH60R or (1) MH60R and (3) VTUAVs
Copyright Ships & Ports Ltd. Permission to use quotations from this article is granted subject to appropriate credit given to www.shipsandports.com.ng as the source.