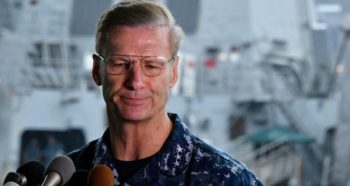 The U.S. Navy has relieved the commander of the Seventh Fleet, Vice Admiral Joseph Aucoin, due to a loss of confidence in his ability to command.
The removal of the commander was announced in a short statement Wednesday by Adm. Scott Swift, commander of the U.S. Pacific Fleet.
Rear Adm. Phil Sawyer, who has already been nominated and confirmed for the position and promotion to Vice Admiral, will assume command immediately.
The Seventh Fleet is the largest of the U.S. Navy's forward­ deployed fleets, with roughly 50 to­70 ships and submarines, 140 aircraft, and approximately 20,000 at any given time. Vice Adm. Joseph P. Aucoin, a 3-­star Navy Flag officer, has commanded the Seventh Fleet since September 2015.
Aucoin's removal comes after four collision this year alone and in wake of the most recent collision involving the USS John S. McCain on Monday.
The search for ten missing sailors continues after the Arleigh Burke-class guided-missile destroyer collided with a merchant tanker off Singapore on August 21. The Navy said Tuesday that some remains have been located inside sealed compartments of the ship. The Malaysian Navy had also located remains in the area of the collision. The remains have not yet been confirmed.
In June, seven sailors were killed when the USS Fitzgerald, another guided-missile destroyer, collided with a containership off the coast of Japan. The Navy has removed the commanding officer, executive officer and senior noncommissioned officer of the USS Fitzgerald citing poor seamanship.
Both the Fitzgerald and McCain collisions are subject to multiple investigations.
In May, a South Korean fishing vessel collided with USS Lake Champlain (CG 57) while the Ticonderoga-class guided-missile cruiser was conducting routine operations in international waters. No injuries were reported and the warship was able to navigate under its own power.
On January 31, the Ticonderoga-class guided-missile cruiser USS Antietam (CG 54) damaged its propellers when it ran aground while anchoring in Tokyo Bay in the vicinity of Yokosuka, Japan.  
Copyright Ships & Ports Ltd. Permission to use quotations from this article is granted subject to appropriate credit given to www.shipsandports.com.ng as the source.