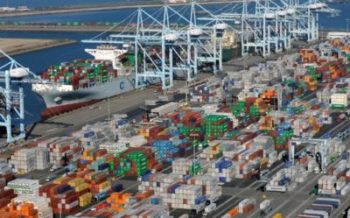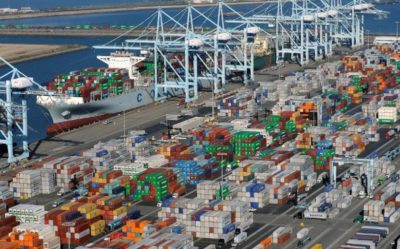 The U.S. trade deficit fell more than expected in February as exports increased to a two-year high and slowing domestic demand weighed on imports.
The narrowing in the trade gap comes as the Trump administration is pushing ahead with its agenda for fair trade and bringing back manufacturing jobs to the United States as it seeks to boost economic growth.
The Commerce Department said on Tuesday the trade deficit declined 9.6 percent to $43.6 billion. January's trade shortfall was revised slightly down to $48.2 billion from $48.5 billion. The politically sensitive U.S.-China trade deficit dropped 26.6 percent to $23.0 billion in February.
The decline in the U.S.-China trade deficit comes ahead of Chinese President Xi Jinping's visit later this week.
President Donald Trump has declared China the "grand champions" of currency manipulation.
"The U.S has its work cut out for it if it is going to try to alter the pattern of trade that has developed between China and U.S. companies over the last 10 to 20 years," said Chris Rupkey, chief economist at MUFG Union Bank in New York.
"American workers might want something done on this, but U.S. companies certainly do not want to see a shift in the globalization trend."
Economists polled by Reuters had forecast the trade gap falling to $44.8 billion in February.
When adjusted for inflation, the deficit decreased to $59.7 billion, with exports of goods the highest on record as an earlier drag from a strong dollar fades. The real trade deficit was $65.1 billion in January.
The dollar was trading marginally higher against a basket of currencies, while prices for U.S. Treasuries were lower. U.S. stocks were little changed.
Despite the decline in the real trade deficit, trade will probably be either neutral or impose a small drag on gross domestic product in the first quarter after subtracting 1.82 percentage points from fourth-quarter growth.
In addition to trade, weak consumer spending also likely constrained the economy in the first three months of the year. The Atlanta Federal Reserve is forecasting GDP rising at a 1.2 percent rate in the first quarter, a deceleration from the 2.1 percent pace logged in the October-December period.
The government is eyeing trade as a vehicle to lift annual economic growth to 4 percent and boost the manufacturing sector. Trump last Friday ordered a study into the causes of U.S. trade deficits and a clamp-down on import duty evasion.
Trump also wants to renegotiate the North American Free Trade Agreement (NAFTA), which was signed in 1994 by the United States, Canada and Mexico.
"The U.S. is an economy that is at full employment and facing challenges of low productivity growth and slowing labor force growth, which implies that growing U.S. demand will increasingly spill over into the global economy and result in a wider trade deficit over time," said John Ryding, chief economist at RDQ Economics in New York.
In February, exports of goods and services increased 0.2 percent to $192.9 billion, the highest level since December 2014. Exports were lifted by gains in the shipments of automobiles and parts, which were the highest since July 2014.
Exports of industrial supplies and materials were the highest since December 2015. There was an 8.0 percent jump in exports to the European Union, with goods shipped to Germany surging 8.6 percent. Exports to the United Kingdom soared 17.3 percent and Japan also bought more goods from the United States.
However, exports to China fell 2.7 percent and Mexico saw a 7.1 percent drop in goods shipped from the United States.
Imports of goods and services fell 1.8 percent to $236.4 billion amid declines in imports of cell phones and motor vehicles. Imports had risen in recent months, in part on higher oil prices. There was a drop in crude oil imports in February.
Some of the decline in imports in February likely reflects slower consumer spending. Data on Friday showed real consumer spending decreased for a second straight month in February, the first back-to-back monthly decline since April 2009.
Still, food imports hit a record high in February and imports of capital goods were the highest in nearly two years. Imports of goods from China tumbled a record $8.6 billion to $32.8 billion in February, a 20.8 percent drop from January.
The nation also saw a decline in goods shipped from the European Union, Canada and Japan.
The trade deficit with Germany was the smallest since January 2013. The trade gap with Mexico jumped 46 percent to $5.8 billion.
Copyright Ships & Ports Ltd. Permission to use quotations from this article is granted subject to appropriate credit given to www.shipsandports.com.ng as the source.