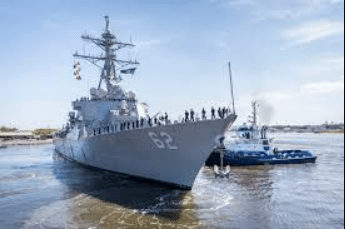 The U.S. Navy guided-missile destroyer USS Fitzgerald has left a Mississippi shipyard to return to service nearly three year's after its fatal collision with a containership off the coast of Japan.
The USS Fitzgerald (DDG 62) departed Huntington Ingalls Industries' Ingalls Shipbuilding Pascagoula shipyard on June 13 to return to her homeport in San Diego.
The USS Fitzgerald was badly damaged in a collision with the merchant containership ACX Crystal off the coast of Japan on June 17, 2017 resulting in the deaths of seven Navy sailors.
The sail away caps more than two year's of repair and modernization work on the ship.
"Today the 'Fighting Fitz' is returning to the Pacific Fleet as one of our nation's most capable warfighting platforms, marking a significant step in her return to warfighting readiness," said Rear Adm. Eric Ver Hage, director, Surface Ship Maintenance and Modernization and commander, Navy Regional Maintenance Center. "The Fitzgerald sailors, our Navy project teams and the men and women of Ingalls put forth a tremendous effort to restore the ship to fighting shape and did so on schedule."
Throughout the restoration, the Navy said it made it a priority to ensure Fitzgerald returned to a peak state of warfighting readiness. In addition to repair work, the USS Fitzgerald also underwent Hull, Mechanical and Electrical (HM&E), Combat System and C5I modernization upgrades.
"Completing repairs and upgrades to Fitzgerald was only possible because of the outstanding teamwork between the government and industry teams over the last 2 1/2 years. My thanks go out to everyone involved in making sure the ship is ready, and I'm especially proud of my crew's hard work ensuring we are trained and prepared to take our ship back to sea," said Cmdr. Scott Wilbur, commanding officer of Fitzgerald.
In a 71-page report detailing the Fitzgerald and USS John McCain collisions (the McCain suffered a similar fatal incident just two months later while arriving in Singapore), the Navy called the incidents preventable and that in both cases multiple failures by watch standers contributed to the incidents.
The USS John S. McCain returned to service in October 2019 following repairs at the U.S. Naval Ship Repair Facility-Japan Regional Maintenance Center in Yokosuka, Japan.