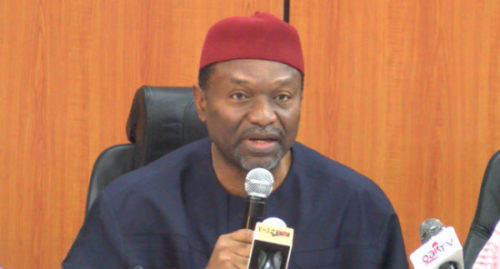 Minister of Budget and National Planning, Sen. Udo Udoma, on Thursday, stressed the need for Nigeria to increase her revenue generation.
He stated this at the Public Consultation on the 2019-2021 Medium Term Fiscal Framework and Strategy Forum in Abuja.
Udoma noted that it was important for the country to substantially concentrate on increasing its oil and non-oil revenues as well as reduce borrowing.
He said, "We must look at ways of squeezing out the maximum we can get from oil because oil is a wasting asset, we need to get the money and use it to solve a lot of our problems.
"We need to invest in infrastructure, invest in human capacity development and in all we need to build up our stock of capital.
"We also need to ensure we build up the non-oil sector.
"At the moment, the revenues are on average up by about 30 percent from 2017, but it is not where we want to be, we need to do much better."
Udoma further harped on the need for the country to ensure it increased its revenue through tax collection.
He said, "Our ratio of taxes collected to our Gross Domestic Product (GDP) is still very low.
"We need to look at how we can generate resources so that we rely less on debts, more on revenue and also build up the revenue so our debt service to revenue ratio will bring that down.
"We must increase our revenues that have to be the priority, because when you have that revenue, it is possible to deliver quality infrastructure which this country requires."
According to the minister, the medium term framework outlined the Federal Government's strategies and macroeconomic projections for 2019-2021, which is built on the Economic Recovery and Growth Plan (ERGP).
He said it provided the broad framework for the annual budget in line with the Fiscal Responsibility Act.
Udoma said the framework was aimed at sustaining growth, diversifying the productive base of the economy as well as reflect the priorities and objectives of the ERGP.