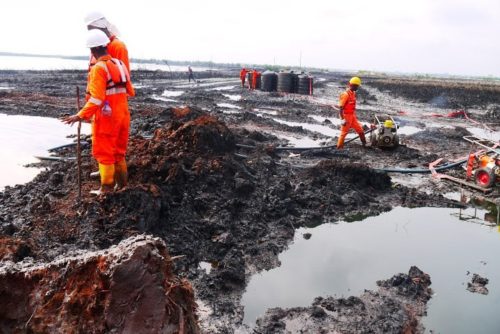 The British Deputy High Commissioner to Nigeria, Lavie Beaufils has said her country will partner with the Federal government in efforts to clean Ogoni area in the Niger Delta and tackle other environmental challenges across the country.
Beaufils gave the assurance in Abuja on Monday when she paid a courtesy visit on the Minister of State for Environment, Alhaji Ibrahim Jibril.
She noted that the British government had resolved to assist Nigeria in Ogoni clean-up efforts, ocean protection and green finances.
According to her, many countries, including Nigeria, were facing some
environmental challenges, adding that the UK was ready to assist Nigeria in efforts to deal with the challenges.
The envoy said that her visit was aimed at discussing the way forward with the minister and proffer solutions to some of the environmental challenges facing Nigeria.
Beaufils, however, expressed concern over the flooding ravaging parts
of the country and underscored the need to find long-term solutions to it.
Responding, Jibril thanked the envoy and the British Government for
the intervention, which was aimed at addressing the environmental challenges facing the country.
He noted that Nigeria was a huge country facing the brunt of different climatic elements.
He said, "As we are all aware, climate change is a global challenge and Nigeria is not left out; and our country is mostly affected by the vagaries of its dry and wet seasons.
"The coastal region is mostly affected by the flood, while the northern parts of the country usually experience desert encroachment, particularly during the dry season.
"The country is faced with a lot of environmental challenges which
include erosion, desertification, land degradation, among others,'' he said.
While commending the British Government for the partnership, the minister briefed the high commissioner about the measures which President Muhammadu Buhari's administration had put in place to facilitate the clean-up of the Ogoni area.
He conceded that the Ogoni clean-up was a major challenge facing the
administration, saying that the clean-up might take a longer period of time due to the technical approaches involved in the exercise.
Jibril said that the Federal Government had put in place measures, which involved the mobilisation of technical experts and foreign experts, to address the environmental issue.