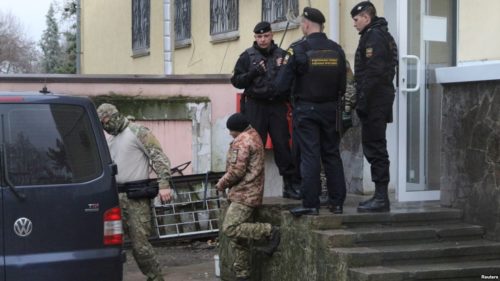 The European Court of Human Rights on Friday, said Ukraine has filed a complaint against Russia for firing on three of its ships and boarding them on Sunday.
The incident, which took place in the Kerch Strait that separates the Sea of Azov from the Black Sea, caused several injuries among the 24 Ukrainian sailors taken prisoner.
According to a court statement, Ukraine had asked it to intervene to ensure the well being of its sailors. Moscow accuses them of illegally crossing the Russian border and failing to comply with orders to stop.
The statement said, "The Ukrainian government has asked in particular that Russia provide medical care to the wounded sailors and provide information on the state of health of the crew members. It also asks that the sailors be treated as prisoners of war."
The court said it had asked the Russian government for information about the condition of the sailors' detention.
The complaint, the fifth by Ukraine against Russia since Moscow annexed Crimea in 2014, could take several months or years to be dealt with by the court.