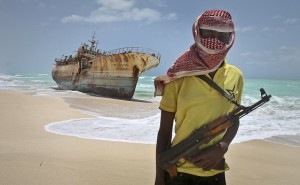 The UN Security Council has renewed its authorization for international naval forces to join in fighting piracy off the coast of Somalia for another year, stressing that while the threat of such crime had declined, "it still remained a matter of grave concern."
Unanimously adopting resolution 2316 (2016) and again affirming the primary responsibility of Somali authorities in the effort, the Security Council renewed the call upon States and regional organizations that were able to do so to cooperate with those authorities and each other in deploying naval vessels and military aircraft, by providing logistical support, and by seizing and disposing of boats, arms and related equipment reasonably suspected to be used in piracy and armed robbery in the area.
Following a steady decline in attacks since 2011 through naval counter-piracy missions and protection offered to ships transiting through the region, the Security Council noted the continued need for national legislative action and international capacity-building assistance due to the continuing gap in domestic capacity and legal frameworks for the detention and prosecution of suspected pirates and those who profited from the crimes.
The Security Council also expressed concern over reports of illegal, unreported and unregulated fishing in Somalia's exclusive economic zone and, noting a complex relationship between such activity and piracy, recognized that it accounted for millions in lost revenue for the country and could contribute to destabilization of coastal communities.
Copyright Ships & Ports Ltd. Permission to use quotations from this article is granted subject to appropriate credit given to www.shipsandports.com.ng as the source.