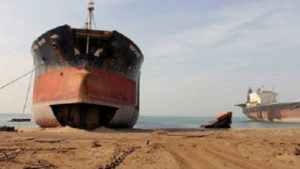 The decision to halt shipbreaking activities at Gadani yards in Pakistan has left many fearing for the fate of new arrivals and clearance permissions on existing deals, according to GMS, a cash buyer of ships for recycling.
The uncertainty arose after Chief Minister of Balochistan, Sardar Sanaullah Khan Zehri, banned all demolition activities related to tankers and liquefied petroleum gas (LPG) carriers at Pakistan's Gadani shipbreaking yards last week following two incidents which caused dozens of fatalities.
The minister informed that the works would be stopped until proper safety arrangements are made.
However, once the ban is lifted, key requirement for all tankers arriving locally will be strictly gas free for hot works clean with all cargo and slop tanks totally cleaned of all cargo, slops and sludges, echoing current regulations in both India and Bangladesh, according to GMS.
The ban was imposed less than three months after Gadani yards temporarily closed in November following the series of explosions aboard the oil tanker Aces, reportedly caused by gas wielding processes undertaken during the dismantling work.
The fatal explosion on November 1, which killed at least 28 workers, and the fire on January 9, with another 5 victims "have really shaken up the industry and yard upgrades are inevitable," GMS said.
"It is therefore expected to be a somewhat distracted market in Gadani, until the full range of yard enhancements, restrictions and requirements are established going forward," GMS said.
The cash buyer added that the future of shiprecycling remains uncertain, however, if local beachings in the absence of cutting activities continues, "we can certainly expect Gadani recyclers to disappear from the bidding tables, especially if local authorities take too long to permit yards to come back online."
Copyright Ships & Ports Ltd. Permission to use quotations from this article is granted subject to appropriate credit given to www.shipsandports.com.ng as the source.