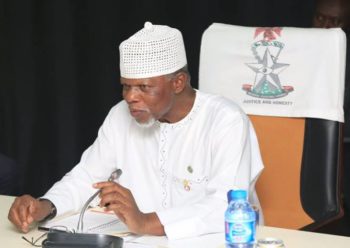 Comptroller General of Customs, Hameed Ali has reiterated the Service resolve to ensure that consignments are not delayed in the ports as part of effort at facilitating trade.
Ali who spoke at an interactive session organized by Unilever Plc recently in Lagos noted the need for members of the business community to be acquainted with valuation procedures and processes and the imperatives of providing adequate information on components of their imports to Customs for duty assessment.
Represented by the Deputy Comptroller General in charge of Excise, Free Trade Zones and Incentives, Patience Iferi, Ali described the interaction as very necessary and a way of fostering existing tie between Customs and Unilever.
He said, "Trade can only develop on robust partnership. If we have good partnership with all our stakeholders it makes us improve on our services.
"We cannot achieve our aim of ensuring trade facilitation except we have this type of partnership. Holding a forum like this has helped us to appreciate their challenges and make them realise that Nigeria Customs Service is out to help them succeed.
"We are focused on national security and economic development for the country. The management of Nigeria Customs Service sees a partner in Unilever.
"There are regulations we are guided by and we will deploy adequate publicity as a tool for trade facilitation. We will continue to engage our compliant stakeholders and apply appropriate sanctions whenever necessary for infractions."
Managing Director of the company Yaw Nsarkoh said his company's business focus is to serve the interest of Nigeria and Nigerians by ensuring consumer safety, satisfaction and value for money at all times without compromising standards.
"The interaction is tremendously significant because business itself should serve the interest of the people. We need to interact and ask questions at Unilever to ensure that the best interests of Nigerian people are served in the cause of our business.
"We all have our unique processes and interventions and we have reasons to work together. This forum has helped us to open up both sides, understand each other's processes and work better.
"I can say for myself that my expectations have been overwhelmingly exceeded and I look forward to stepping up with great strides in the partnership with customs from now on.
"Let me also take this opportunity to thank the leadership of customs for the tremendous openness and constructiveness with which they approached this forum. Nigeria is a global priority of Unilever and first thing that informed this is that we are long term investors and we intend to very deeply understand the Nigerian market and serve the Nigerian people.
"In order to be able to do that as a private sector concern, you have to work with the public sector stakeholder using the institutional arrangements that are in place and one of the key stakeholders in that direction is customs. That informed our interactive initiative.
"The benefit for the consumer is safety, security and high quality. That is why we keep talking about serving the interest of the Nigerian people. The whole essence is to satisfy them," he said.