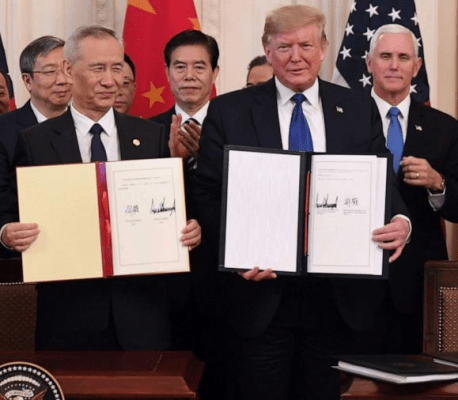 The United States and China have signed a "phase one" economic and trade agreement that is expected to ease trade tensions between the largest two economies in the world.
The deal was signed between the US President Donald Trump and China's Vice President Liu He in Washington on Wednesday. 
"This agreement will begin rebalancing our trade relationship with China and provide new opportunity for American businesses and farmers," the White House said in a statement.
Under the deal, China has pledged to increase imports of American goods and services by at least USD200 billion, compared to 2017 levels. The country has also agreed to end its practice of forcing foreign companies to transfer their technology to Chinese companies in order to gain market access and address longstanding intellectual property concerns.
On the other hand, the US has agreed to halve some of the tariffs imposed on Chinese goods and canceled another round that was set to take effect in December 2019. However, it will maintain 25 percent tariffs on a USD250 billion worth of Chinese products.
Welcoming the signing of the phase one trade deal, the National Retail Federation (NRF) said work remains to be done to end the trade war between the two countries. 
"The trade war won't be over until all of these tariffs are gone. We are glad to see the phase one deal signed, and resolution of phase two can't come soon enough," NRF President and CEO, Matthew Shay, said.