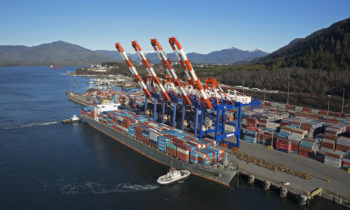 The US is investing in deepening projects to allow for the arrival of ever bigger ships in its ports, according to the FY 2017 Work Plan released by the US Army Corps of Engineers (USACE) on May 24.
Namely, Jacksonville Port will receive a total USD 17.5 million to begin construction of the deep draft navigation improvements. The deepening of the Jacksonville harbor is expected to bring larger ships to Northeast Florida.
"This funding is a great start to the needed dredging at JAXPORT which will allow economic growth and trade to prosper in Northeast Florida. As one of 17 US commercial ports critical to the nation's security, the Jacksonville Harbor plays a significant role in the deployment of cargo overseas," John Rutherford, US Representative for Florida's 4th Congressional District, said.
What is more, the Charleston Harbor Deepening Project received USD 17.5 million in construction funding, allowing construction on the project to begin this fall as scheduled. Charleston also received USD 16.1 million in operations and maintenance dollars, which provide for the routine maintenance dredging of the harbor necessary for construction begin. Collectively the funds allocated in the Work Plan allow Charleston to continue moving forward and preparing for construction, according to the South Carolina Ports Authority (SCPA).
SCPA said the largest contract for the project will be let this fall, utilizing federal dollars in combination with the USD 300 million already set aside for the project by the S.C. General Assembly in 2012.
"By the end of the decade, we will achieve 52 feet of depth and be the deepest harbor on the East Coast, a depth advantage that will add significant capability in the Southeast, the fastest growing port region in the country," Jim Newsome, SCPA President and CEO, pointed out.
By achieving 52 feet of depth, SCPA said it will be able to accommodate fully-loaded new-Panamax container ships without tidal restriction.
In addition, USACE awarded a total of USD 1.06 million to Oakland Harbor, one of the largest container ports on the West Coast, to complete and fiscally close out its 50-foot deepening project. Under the project, the channels of the Oakland Harbor and port-maintained berths have been deepened from 42 to 50 feet.
Tampa Harbor has also received USD 9 million for the navigational improvement of Big Bend Channel. With the allocated funding, Tampa Harbor will intiate, complete and close out the project.
Moreover, USACE awarded USD 42.7 million to Savannah Harbor for its expansion project. The new funds will enable the port to continue environmental monitoring and entrance channel dredging. In addition, the funding is allocated in relation to construction management and engineering during construction.
Furthermore, Boston Harbor received USD 18.2 million to start the construction of navigation improvements which are expected to allow larger containerships to call at Massport's Conley Terminal.
Finally, USACE allocated USD 5 million for improvements in Houston – Galveston Navigation Channels.