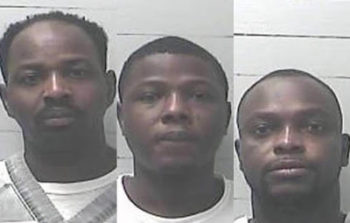 A Mississippi court in the US has handed a 235-year jail term on three Nigerians for various online fraudulent activities.
Oladimeji Ayelotan, 30, was sentenced to 95 years in prison; Rasaq Aderoju Raheem, 31, was handed 115 years, while Femi Alexander Mewase, 45, got 25 years behind bars.
The Nigerians, who befriended many of their victims on dating sites, had made "tens of millions of dollars" from their schemes.
A court in the southern district of Mississippi had, in February, found the three guilty of crimes ranging from mail fraud to wire fraud, identity theft, credit card fraud as well as theft of government property.
Ayelotan and Raheem were also found guilty of conspiracies to commit bank fraud and money laundering.
The US department of justice said as far back as 2001, the scammers were involved in multiple Internet fraud schemes, resulting in losses in the tens of millions.
It said the three would "befriend women on dating sites, establish a romantic relationship and then either get them to send money or have them participate in fraud schemes, usually without the victim's knowledge."
The department said the unsuspecting women would sometimes be required to "cash counterfeit checks and money orders, use stolen credit card details to purchase goods, and use stolen personal information to take over victims' bank accounts."
"They were also apparently used to launder money via Western Union and MoneyGram, and re-package and re-ship goods obtained fraudulently," the department said.
The three Nigerians were reportedly among the six extradited from South Africa by US department of justice in 2015 after being accused of "running a series of scams against gullible Americans" over the past 16 years.
Fourteen others resident in the US were also arrested to face trial in Gulfport, Mississippi, on nine federal charges including conspiracy to commit identity theft, wire fraud, bank fraud, theft of US government funds, and conspiracy to commit money laundering.
They were also accused of "running romance stings to bilk the lonely of funds, shipping fraud, running fake work-from-home businesses, check fraud, and plain-old hijacking of other people's bank accounts and credit cards to divert funds."  
Copyright Ships & Ports Ltd. Permission to use quotations from this article is granted subject to appropriate credit given to www.shipsandports.com.ng as the source.