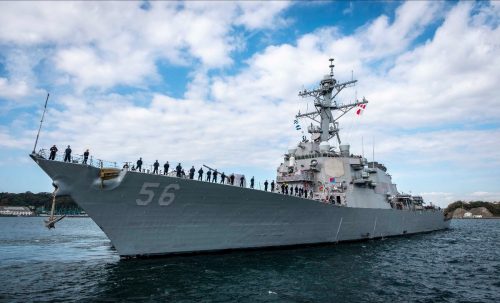 The guided-missile destroyer USS John S. McCain is returning to sea more than two years after its deadly collision with a containership in the shipping lanes off Singapore.
The Navy announced Monday that the Arleigh Burke-class destroyer has completed necessary repairs at the U.S. Naval Ship Repair Facility-Japan Regional Maintenance Center in Yokosuka, Japan and she is now underway conducting comprehensive sea trials.
"During the at-sea testing, the ship and her crew will perform a series of demonstrations to evaluate that the ship's onboard systems meet or exceed Navy performance specifications. Among the systems that will be tested are navigation, damage control, mechanical and electrical systems, combat systems, communications, and propulsion application," the Navy said in a statement.
The John S. McCain was badly damaged after colliding the merchant containership Alnic MC on August 21, 2017. The collision resulted in the deaths of ten U.S. Navy sailors and caused significant damage to the hull of the McCain, causing flooding in nearby compartments, including crew berthing, machinery, and communications rooms.
The McCain incident followed a similar collision involving the guided-missile destroyer USS Fitzgerald and a tanker off the coast of Japan in June 2017, which resulted in seven sailor deaths.
The combined incidents led to the dismissal of a number of high-ranking Navy officers, including the commanders of both McCain and Fitzgerald, as well as the commander of the Seventh Fleet.
In its report on the accidents, the Navy called the collisions "avoidable" and pointed to multiple failures by watch standers on board the destroyers. A NTSB investigation found that the incident was the result of insufficient training, inadequate bridge operating procedures and a lack of operational oversight.
John S. McCain is assigned to the U.S. Seventh Fleet's Destroyer Squadron 15, the Navy's largest forward-deployed destroyer squadron and its principal surface force.
Commander of Destroyer Squadron 15, Captain Steven DeMoss, said, "The USS John S. McCain embodies the absolute fighting spirit of her namesakes, and shows the resiliency of our sailors. She has completed her maintenance period with the most up-to-date multi-mission offensive and defensive capabilities, preparing her to successfully execute a multitude of high-end operations."
The ship's Commanding Officer, Cmdr. Ryan T. Easterday, said, "This whole crew is eager to get back to sea, and that's evident in the efforts they've made over the last two years to bring the ship back to fighting shape, and the energy they've put into preparing themselves for the rigors of at-sea operations.
"I'm extremely proud of them as we return the ship to sea, and return to the operational fleet more ready than ever to support security and stability throughout the region."