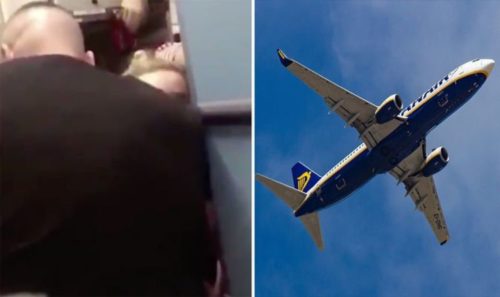 A man threatened to kill passengers aboard a Ryanair flight.
The incident happened midair on Saturday when they were flying from Manchester, England to Gran Canaria, Spain.
A passenger named Jodie Fisher, who was one of those assaulted by the violent man narrates her experience: "I could hear the man at the front of the plane shouting and screaming at other passengers. He came to the front of the plane and started throwing cups all over the floor of the plane. There were three members of cabin crew, one male and two females but they were all Spanish so I think they struggled to understand him."
She said the violent passenger grabbed a fire extinguisher on the plane with which he threatened to hit a female cabin crew member.
"He grabbed hold of my top and ripped it. He broke my phone and ripped my watch off my wrist. He bit my sister on the arm and he was about to bite me on the leg before a man and a woman came over and jumped on him.
"Passengers and crew had to hold him down on the floor for about 45 minutes, it was awful," Jodie Fisher added.
The man was handed over to airport security officials as soon as the plane landed at Gran Canaria.
See the full video below: