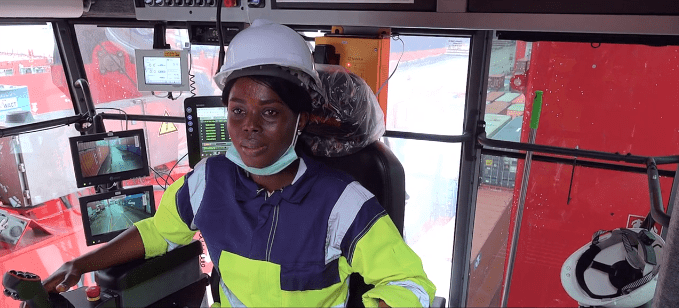 Nigeria's leading container terminal, the West Africa Container Terminal (WACT), Onne, Rivers State, has scored another major milestone. 
This time around, the terminal operator trained the first female crane operator at the eastern ports. 
The ports outside the Lagos area are described as eastern ports. They include the ports in Onne, Port Harcourt, Warri and Calabar. 
WACT Onne has set many achievement records in recent time including deploying the first set of modern Mobile Harbour Cranes in the ports outside Lagos; handling the first gearless container ship in the eastern ports and handling the largest container ship ever to berth in the ports outside Lagos. 
"We are pleased to announce Fubara-Precious Ibiso Wiseman as the first female Rubber Tyre Gantry (RTG) operator at West Africa Container Terminal (WACT), Onne Port, Nigeria. 
"Operating in a traditionally male-dominated industry, we celebrate this iconic feat as another milestone in line with APM Terminals' commitment towards increasing female talent at all levels within the organization, reaffirming its diversity and inclusion policy.
"Fubara-Precious, who is from Ogu – one of our host communities – emerged the only certified female RTG operator out of 27 trainees. Fubara-Precious will operate one of the 6 RTG cranes at our terminal. We expect 14 more RTG cranes soon as part of our USD100 million additional investment for the ongoing terminal upgrade project," WACT said in a post on its LinkedIn page recently. 
See below video of the lady as she mounts her crane: