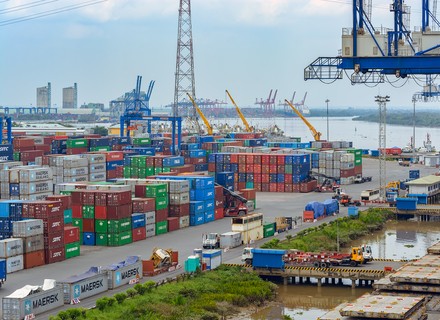 Vietnam container port volumes increased by 8.5% last year to 16.94m teu, up from 15.62m teu in 2019.
Growth was primarily driven by substantial terminals in Lach Huyen, in central Vietnam, and Cai Mep in the South province of Vung Tau, close to Ho Chi Minh City.
Volume at Lach Huyen, a public private partnership between the government of Japan and Vietnam which was inaugurated in 2018, jumped from 418,558 teu to 661,071 teu while container cargo at Cai Mep terminals grew to 4.41m teu, up from 3.74m teu the year before.
Last month, Gemalink, a joint venture between CMA CGM and Vietnamese corporation Gemadept, began operations at Cai Mep.
Saigon New Port Corporation, run by the Vietnamese Navy, posted excellent results in its ports of Saigon (Cat Lai) with 5.59m teu, and two terminals in Cai Mep where they moved 2.83m teu, the largest participant in the Southern port complex.
According to industry analysts, Vietnam's port sector is set to flourish this year as trade in goods is expected to thrive on the back of recovery in production, domestic consumption, export markets and reshoring of global supply chains. Total foreign trade in 2020 was estimated at $543.9bn, a year-on-year increase of 5.1%. Despite the outbreak, the economy has continued to post strong growth, which is set to rise to 6.8% this year, according to the Asian Development Bank (ADB)
Volume in Vietnamese ports picked in 2020 Q2 with the pandemic encouraging many multinational corporations to shift production to Vietnam, a trend likely to continue as Vietnam integrates various FTAs such as the EU-Vietnam FTA (EVFTA) and the Regional Comprehensive Economic Partnership (RCEP).
On the expansion front, Hai Phong Port Joint-Stock Company said that the $299m-project of container terminals 3 and 4, with a length of 750m main berth, 150m barge berth and capacity of 1.1m teu, at the Lach Huyen International Gateway Port in Hai Phong City will begin construction at the end of 2021. Terminal 3 is expected to be operational by 2023 and the whole project will be completed in 2025.
Vietnam is planning significant investments designed to create world class ports in the next phase of its master plan for its port system. The Ministry of Transport said 30 December, that it plans to invest between approximately $6bn and $8bn by 2030 in the next phase of port development, as part of a long-term plan for 2050.
The Deputy Minister of Transport Nguyen Nhat acknowledged that Vietnam lacks a large international standard port while several small ones have inadequate infrastructure, resulting in inefficient port operations.
As of the beginning of 2020, Vietnam had increased its berth space by more than eight times in the past 20 years to a total of 588 berths in 34 ports. The focus will be on developing the Hai Phong and Cai Mep ports to international standards. Vietnam also plans to invest in the central economic zones as part of the effort for the development of major ports and clusters that can accommodate large container ships.