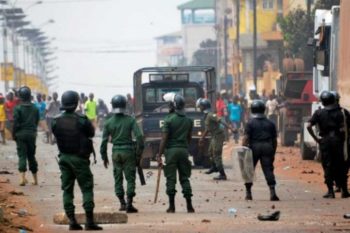 Opposition supporters in Guinea protested and erected barricades in the mining towns of Boke and Kamsar on Tuesday, disrupting some shipments of the aluminum ore, bauxite, industry officials said.
Spokesmen for the police and government were not immediately available to comment on the demonstrations in Africa's top producer of bauxite that has regularly faced political violence.
The West African nation's opposition parties are demanding the publication of results from local elections held on Feb. 4 that allies of President Alpha Conde say they have won.
"It's a situation that is causing losses with our boats stranded and waiting to be loaded," Frederic Bouzigues, Managing Director of Société Minière de Boke (SMB), told Reuters.
In Kamsar, an official with the national mining infrastructure agency said barricades blocked a train carrying ore from Compagnie des Bauxites de Guinee (CBG) on Monday.
The official, who asked not to be named as he was not authorized to speak to the media, said the obstacles were later removed and the train was allowed to continue on its way.
CBG officials could not immediately be reached on Tuesday.
The bauxite industry in Guinea is flourishing even as development of huge iron ore deposits in its forested interior have stalled due to a slump in global commodities prices.
Its main exporters are SMB, which produced around 30 million tons of bauxite last year, and CBG, owned by the Guinean state, Alcoa, Rio Tinto Alcan and Dadco, with output of around 15 million tons a year.
Boke and Kamsar were the scene of repeated bouts of unrest last year with residents protesting about electricity cuts, pollution and a perceived failure of mining projects to raise living standards.
"It's really hot here at the moment with these barricades and tires being burned by the protesters. The gendarmes intervened with teargas and clubs," said Boke resident, Mamadou Diallo.
The opposition, led by Cellou Dalein Diallo, are demanding the release of full results and poll documents from the February vote, saying the election was marred by fraud.
The protests have coincided with a five-week strike by teachers demanding a salary increase.  
Copyright Ships & Ports Ltd. Permission to use quotations from this article is granted subject to appropriate credit given to www.shipsandports.com.ng as the source.