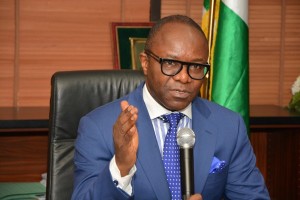 The Minister of State for Petroleum Resources, Dr Ibe Kachikwu, says the 2017 budget implementation will be affected by growing uncertainties in the global oil market.
Kachikwu made the statement at a news conference on Wednesday in Abuja.
He, however, said the Ministry of Finance and the Federal Executive Council were working on measures to cushion the impacts of the shortfall from oil production on the budget.
Kachikwu explained that while the oil production benchmark in the budget was 2.2 million barrels per day (mbpd), the country was producing about 1.7mbpd.
"In terms of the budget impact, definitely, I mean, it is predicated on the number of 2.2 million barrels per day and a price index of 42.50 dollars.
"Within the price cap, I think we're still reasonably within range. Obviously, we have lost quite a lot of months, some months, at least, two or three in which we did not produce what the budget had projected, so there is definitely going to be differential.
"Like you know, the Ministry of Finance is aggressively looking for ways to cover some of these shortfalls; part of that is efficiency, how do we cut down our expenditure?
"Obviously, certain capital items will be affected; if we do not have money, we cannot do certain capital projects that we have in the budget.
"There is no gainsaying the fact that budget will be impacted but we are working hard with the Federal Executive Council to see how we can forecast or predict that sort of impact and see how we can recover," he said.
Kachikwu said Nigeria would in time join in the production cut initiated by the Organisation of Petroleum Exporting Countries (OPEC) and non-OPEC members led by the Russian Federation to stabilise the market.
He further said Nigeria, though committed to the deal, would have to get to a predictive level of comfort to voluntarily join in the production cut.
"We're fairly in consensus of what our position is, there is no disagreement on that. But just to set the record straight, the price of oil today is hovering around 44.70 dollars per barrel.
"So, there is a bit of upsurge trajectory which is good, which means the price for Nigeria is probably in the 46 dollars type range."
He said the price was "below the 50-dollar mark which is where we'll feel comfortable."
Kachikwu said there were a lot of reasons for the situation, including ''a lot of aggressive shale production, and obviously barrels coming out from Nigeria and Libya because of the exemption''.
He said Nigeria has begun to recover gradually adding that "Over the last one and a half months, we've basically began to recover some of our assets that were vandalised and we've been getting a lot more cooperation from the militants that they are letting us continue to try and grow those barrels.
"That recovery is going to be gradual.
"We'll still have below the benchmark set for us by OPEC and I think that over the next one or two months, hopefully, we can get to that point when we can say the recovery has been tested, is systemic, and predictable.
"We need to watch that for a couple of months so that we can get to a predictive comfort and then we voluntarily go to OPEC and see how we can contribute."
He stressed that Nigeria had been an active member of OPEC for 46 years and that was the reason behind some of the cut analysis and strategies that were got from Saudi Arabia and other countries.