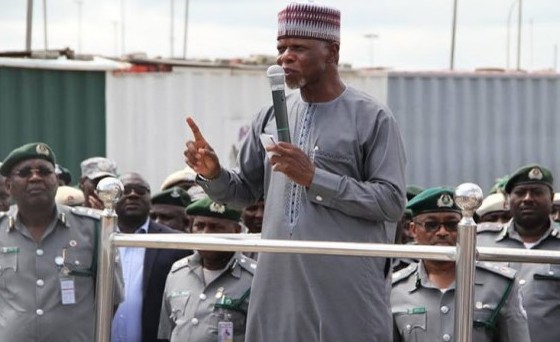 The Coordinator, Zone A of the Nigeria Customs Service (NCS), Assistant Comptroller General Kaycee Ekekezie has asked Nigerians to disabuse their minds about the purported use of charms by Customs officials to fight smugglers. 
"Back in those days, they say Customs officers use juju (charm) but it is not true, what we use is common sense," Ekekezie said. 
Speaking while addressing students of the Yaba College of Technology at an event tagged Entrepreneurship Development Programme and Anti-Smuggling Sensitization Workshop on Thursday, the Zonal Coordinator, represented by Deputy Comptroller Dera Nnadi, explained that 70 percent of Customs revenue is generated from the zone, which is based in Yaba, Lagos and oversees the activities of the various Customs commands in Lagos and other states in the southwest. 
On the recent killing of a traveller by Customs at Sagamu, Ekekezie explained to the students that by virtue of section 158 of the Customs and Excise Management Act (CEMA), Customs officers can operate anywhere in the country. 
According to her, Customs is the only security agency in the world that can visit any house and search it without a warrant.
"Most of us buy cars and ask why should customs stop me and request for my Customs paper, it is obligatory for you to pay tax on that car because it is the money generated that government uses to equip the military and the police. 
"Whenever you encounter a smuggler, you have a responsibility to inform Customs because the money Customs would collect from that smuggler will go a long way in providing other services including for Yaba Tech.
"Our tax does not stop on anything coming in from the border, even when you manufacture anything inside factories; we collect excise tax from them. In those days, a Customs officer is posted to factories where they produce drinks and they collect tax, but even though we don't collect tax on them again, you must get license from Customs before establishing your factory.
"As students, you have relations, you have parents and friends and people you patronize, whenever you see anything suspicious and smuggling is going on, you owe it a duty to inform Nigeria Customs Service," she said.
Also speaking, officer in charge of operations at the Western Marine Command of Customs, Chief Superintendent Samuel Ariyibi said Customs is not interested in killing legitimate businesses, but only interested in implementing government fiscal policies and facilitating trade.