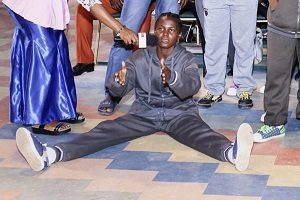 Deported migrants, hitherto Europe-bound, have recounted distressing narratives of their journeys via the Sahara Desert, Libya and the perilous Mediterranean Sea.
They are among the lucky ones who remain alive to tell their stories. This year alone, over 3,600 Europe bound migrants have died, even though thousands of others were able to enter Europe.
The survivors recounted their stories live on TV at the Synagogue Church Of All Nations (SCOAN), a Lagos based church on 16 October.
The church led by Pastor T.B. Joshua has found itself continuously coming to the aid of deportees, who, after making these regrettable journeys, visit the church in need of financial and psychological support.
Tracy Stephen, a 23-year-old from Edo State, Nigeria, was one of the group of 52 deportees who spoke during the live broadcast on Emmanuel TV.
She recollected horrific details of torture, abuse and starvation which included – drinking water from a well with a corpse inside, nearly suffocating while hiding in a truck covered with watermelons as camouflage and witnessing teenage girls raped at gunpoint by their traffickers.
Lucky to be alive, her attempt to reach Italy was almost fatal when the over-filled rubber dinghy she had boarded ran out of fuel.
"There were no life-jackets and none of us could swim," she said, adding that children and babies were among the 140 crammed on-board.
Finally rescued by the Libyan Coast Guard, she was imprisoned for three months before being repatriated to Nigeria through the intervention of the International Organization for Migration (IOM), who subsequently provided a vehicle to bring the deportees to The SCOAN in recognition of the church's humanitarian efforts.
Stephen's narrative was one of many disturbing stories recounted, including a lady whose two children had to drink her urine to survive.
While the congregants and viewers of Emmanuel TV were shocked to hear such horrific accounts, T.B. Joshua warned those who were on the verge of making similar journeys.
"It is where God wants you to make it that you will make it, not where you want to make it or where you admire," he counselled.
In support of the downtrodden deportees, T.B. Joshua presented gifts amounting to N10,000,000 (US$33,000), each of the group receiving N150,000 (US$500) alongside two bags of rice to "start their lives afresh."
Copyright Ships & Ports Ltd. Permission to use quotations from this article is granted subject to appropriate credit given to www.shipsandports.com.ng as the source.